A Trip Report to Anguilla
Night Moves
Your Intrepid Reporter, Laine Parnell
---
Johnno's....
To my eternal regret I didn't go to Johnno's until 2 weeks into my stay, which only left me 1 and a half weekends, plus a Wednesday, to pound myself into a sweating frenzy on the floor. Want to re-capture your youth? with all it's attendant foibles? Go to Johnno's. The place is so packed, so tight with bodies by 10pm that no one will see you making a fool of yourself on the floor anyway, so, as the bartender Rosie told me "GO FOR IT!" I did.
My first attempt at going to Johnno's was a Friday night, 9:30, when I got as far as the parking lot before chickening out. I could hear the music, I could FEEL the music, but couldn't face walking in there, with all my North American middle-aged hang-ups about a single woman walking into a dance bar alone. Could not do it. Went home and re- read the What We Do in Anguilla book the section that says "if you haven't been to Johnno's you haven't been to Anguilla". Flagellated myself.
Yada Yada Yada, did a bunch of stuff the next day, then showered, shaved and perfumed in the evening and took another stab at it. This time, I went earlier, place appeared dead as I peered thru the slats. Couple tourist- type couples eating dinner. Went for a stroll on the dock mumbling to myself, 'cluck, cluck, cluck'.
Then, a savior appeared. A woman named Debbie, staying at Cap Juluca, asked me for a light in the parking lot. As is typical of our diminishing tribe of smokers, we struck up a conversation over our smokes, and eventually she pried out of me the reason for my apparent aimless wandering around the area. She hauled me into the place, introduced me to Rosie, poured a Gin and Collins down my throat, propped me at the bar and LEFT. About 3 nanoseconds later this great looking guy appeared and several hours later we "closed" the place. Carried on dancing on the sand, on the dock, in the parking lot. Staggered down the road to the Pumphouse and closed it, too.
While we were still at Johnno's we'd make frequent sweeps close to the bar while dancing (no stopping) and Rosie would fling a handful of paper toweling at me to mop my face (and everything else!) The next morning I discovered the insides of my knees covered in black and blue bruises from the dancing. He taught me...as I had never danced like THAT before! (but it's really really easy to pick it up if you're in the right mood) The band was awesome, never taking the slightest break, not even a pause between songs. I've now got their CD, they're the VITO band.
I should also point out here, that at no time, with anyone, should an unescorted woman worry about unwanted attention on Anguilla. If you don't want a dance or a chat, a simple 'no thank you' will suffice. You'll be thanked politely for your time and that's it. No problem.
The Dune Preserve - Bankie's place...
Anguilla Trip Report Site Map:
Night Moves.
One evening as I was bombing around the island, scattering chickens and goats, I passed a young fellow standing forlornly by the road leading to Anguilla Great House. I noted it, but flew by on my way to I-can't- even-remember-now. On my way back from wherever, I saw him still standing there! so I stopped and turned back (he was just a kid and it was late) He said he was going to the Dune Preserve, and I replied that I wanted to see the place as well, so he could be my guide. (This is how I got to know the island roads so quickly, I picked up anyone and everyone, and always took them wherever they were going, no matter how far off the beaten track, and got familiar with the place very quickly.)
At any rate, this young fellow said he knew a 'short cut' to get to the Dune from Anguilla Great House, so off the main road we lurched, and I mean LURCHED. Whatta road! Pitch black outside, no lights, it looked like the road had been blasted out by dynamite and meant for tanks only. We passed a huge construction site with all sorts of little roads leading off our 'main' road and I thought "I'm NEVER gonna find my way back again". Finally, he indicated a large house looming ahead in my headlights, and said it was home. He pointed me to a further road, and told me it was the road to the Dune. I remarked that I was really looking forward to hearing Bankie sing, and he turned to me and said "oh, but Dad's not singing tonight"
Well......turns out to be Bankie's son Omari (not sure of the spelling) He told me Dad was singing the next night, so I thought I'd just come back then, as it was his singing I was suffering that road for. I did manage to find the main Dune road back to the highway, but never found the shortcut again.. I think Omari invented it for that evening. The main road is about the same condition as the shortcut, and was very interesting as it was a 'new' road for me that night, not having come DOWN that way.
However, I can say that I didn't have a moment's fear about blundering around in the pitch black, on a deserted road in the middle of no where without my cell phone. I WAS IN ANGUILLA! Figured if I got stuck I'd sleep in the car and someone helpful would come along after daylight. This was after being in Anguilla for 6 days and already I felt totally secure and safe, no matter what the situation.
I did return, the next day, Friday. I decided to go early, during daylight, and showed up at the foot of the Dune around 5:30. No cars around, just this guy leaning over the railing way, way up there. I hollered out "are you open?" and he said come on up. So off I went. Rather, up I went. Gawking at all the nooks and alcoves along the way. Up to the very top! Where I found a bar! and this totally cool-looking dude sitting on it, swinging his legs. We negotiated the amount of rum that my rum punch should contain 'less, no, less than that, just a teeny bit' til he told me it wouldn't really be a rum punch if I didn't actually want any rum in it.
I mentioned looking forward to hearing Bankie sing and that I had given Bankie's son a lift the previous night, then realized I was talking to THE MAN himself. Mostly because he was laughing his head off at me. I'm very swift sometimes, I am. Eventually the crowds arrived and it was everything I expected.
An incredible singer named Pam accompanied Bankie with her 12 string, and sang during his breaks. We all ended up singing, clapping and foot stomping in the fantastical hodge podge of the place, me expecting the floor to give way at times! He did build it strongly!
From time to time I would stare off across the water to the lights on St Martin, the stars in the sky, or turn my head to gaze at the land behind me, and shake myself to realize I was actually there, on a warm Caribbean night, in a place like that, curled up with my back against a post. (this was my first week, and I was still in culture shock) I now have all of Bankie's CD's and anxiously await the new one coming out soon.
I was so impressed with Pam's singing that I became her somewhat 'camp follower' and spent Tuesday evenings at the Pumphouse from then on. She always opens with 'Give me a Reason" and if you don't start swaying and whispering the words, you ain't female.
Pumphouse....speaking of....
I went there the Tuesday following hearing Pam at Bankie's, and, true to my habits, showed up about 4 hours before she was due to sing. But no matter, what a place to spend some time.!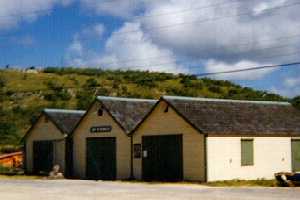 The ultimate Caribbean "Cheers" where they all know your name, and where Donna and Laurie had my drink down pat (margarita) after only one visit. Laurie pegged me for a Canadian immediately because of the Player's Light, and Laurie, I have not forgotten my promise to send you some Kokanee beer, choice of the mighty British Columbian Sasquatch!
The Pumphouse was my very first, I swear, in my lifetime, experience of actually sitting at a bar, you know, the long wooden thing. I had never done that! This place makes it easy, too easy and I could see myself propped up there day after day, just watching Donna languidly swirl around mixing drinks. (I love to watch anyone good at their job, it's like a ballet) I can now see why people hang around bars, never saw the point of it before...mind you, I still don't know if I could do it at 'home'. Everyone seemed to know each other, but I never felt like an outsider, they just kind of 'absorbed' me into the group.
By the time I went back they 'knew' me and it was such a lovely feeling to just walk in the door and get a wave, a smile and "your usual?" During my last week, tho, I didn't get "the usual?", I just got the drink itself by the time I sat down. Awesome! Perhaps if you are used to this, you may wonder what the heck I'm going on about....but really, this was all totally new to me, and I plunk it squarely on Anguilla.
One memorable night, several friends and I went on a tear around the island, hitting all our favourite spots, and the Pumphouse is where we ended up to eat. We ordered almost everything on the menu and dug into it like a buffet.
One thing to mention....I love the dogs that hang around the place, especially that so-affectionate dalmation! She would just lean against my leg as I sat, for an hour or so of ear scratching, both of us very very content with the arrangement. Matter of fact, everywhere I went I had a dog or two trailing along. The island dogs are very friendly; once you tell them firmly to 'shut up' they come slinking over for a little lovin' if you pat your leg.
---
---
---
Copywrite...Laine Parnell December 1997.
Home Page.