A Trip Report to Anguilla
Living in the Lap of Luxury
Your Intrepid Reporter, Laine Parnell
---
I dithered around for months about where I was going to plunk myself, and was leaning heavily towards the Rendezvous Bay Hotel, mostly for it's 'history'. That was until I saw the brochure for Chinaberry/Bayberry villas! I fell in love with the place at first peek, and HAD to stay there. I showed off the pictures to all the seasoned travelers at work, and they all commented "OMIGOD! doesn't look like any resort/hotel room I've ever been to", but almost everyone warned me about getting my expectations too high.

Up to date information on Anguilla villas.

High they were.......but Chinaberry exceeded even my lofty hopes.

This is a home, a nest, a haven of comfort. You could arrive with just your toothbrush and a change of clothing and never want for a thing. One silly concern I had before arriving was PILLOWS. I sleep with about 5 or 6 pillows all stacked around me for draping my arms and legs over. If I had piled all the pillows in Chinaberry on the king sized bed, there wouldn't have been room for ME!

Masses of sweet smelling, squishable towels in the bathroom, including monstrous 'beach' towels. Forgot your hair dryer? no problem...altho' the only time I used it was to dry my bra quickly. Need some body lotion? no problem, it's there in a basket stuffed with other goodies .

Fussy about the soap you use on your bod? Don't waste space in your suitcase. The cocoa butter soap that Gayle swears by is right there and will leave your skin smooth and silky ( I didn't have to use my usual gallons of baby oil on the ol' flesh while there) A great selection of books in a HUGE basket, and lots of CD's for the stereo. TV has cable, but why on Earth would you want to watch TV?

Shells and scented candles clustered on every table. Gorgeous pictures on the walls...check out the ones in the bathroom! And the water is soft, soft, soft. I'm used to very soft water, being from Vancouver, but this was like butterfly kisses.

The bathroom at Chinaberry got 5 photographs from me, as each angle shows a different delight.

You enter off the main room, and go down 3 steps. The ceiling is lofty, with openings high in the wall, for that warm, delicious Caribbean breeze and sunlight. The room is big enough to host a New York cocktail party, and if the party got a little 'out of hand', well, the shower can hold a crowd! That shower!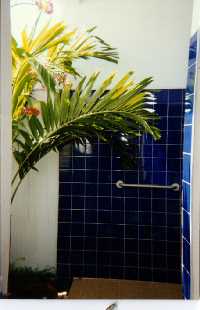 A room unto itself, a step down, completely tiled in a rich, dark blue, open to the air from a partial open wall/ceiling, but decadently private! And there really is a palm tree, growing from a cutout in the floor, the hanging fronds would sometimes brush against me. There is also Bougainvillea, vivid and trailing down the wall into the room. Definitely encourages water conservation motto to 'shower with a friend'. Any time of day or night......in late afternoon, you could lean naked again the wall and get an 'overall' tan while showering, but in the moonlight....oh, the moonlight. Shhhhh, don't turn on any lights, tiptoe hand in hand into that magical, romantic alcove, and soap each other gently to the murmur of the waves on the shore, the caress of the night breeze and let the moonlight paint your bodies liquid silver.
Eventually, you will exhaust yourself in the shower, so come on out and replenish your bodies' reserves with a little trip to the kitchen. Again, think of any conceivable device (hey! stop those bathroom thoughts!) I mean kitchen gadget....and it's there to hand. I was so busy just gawking at the visible accouterments my first couple of days, that I didn't open all the cupboards and drawers.
Anguilla Trip Report Site Map:
Living in the Lap of Luxury.
So, one day I was be-moaning to myself that I should get a thermos for my trips out, and one fairly leaped from the cupboard, along with a cooler chest. Large enough to hold whatever you'd need for a substantial picnic, but easily hoisted. Freezer packs in the freezer, and enough ice cubes, trays and re-useable 'drink coolers' to cool down the Montserrat volcano. From that day on that thermos was in the trunk of the car, and the cooler made several excursions as well.
There are two completely different balconies for Chinaberry, the West one, opening from a sliding glass door, looks out over Rendezvous bay, you can see the red and green lights of Bankie's place across the water at night. This is the sunny balcony during the day; good for 'overall' tanning, very private, whitewashed and Mediterranean in feel. There are 2 chaises for lounging, as well as a large table with huge umbrella, chairs and a lamp for night-time. This balcony is perfect for sun lounging when you want to be a lizard. It's also the place for moon-watching, as the moon always hung over Rendezvous Bay in the perfect position to be viewed from my bed. I would leave the sliding door open at night, didn't need the screens or the mosquito netting (altho' I LOVED the look of it, draped over the bed), and in my second week, dispensed with the ceiling fans as well. All I needed was that lovely breeze coming off Rendezvous Bay. The whole place is so airy, and designed to make the most of the breeze, that I never had one night too warm to be comfortable (and I am not a heat-loving person)
The other balcony, opening from a door between the bed and kitchen, is where I would head to 'cool down' between trips to the beach. It was always in shade, with a dynamite cross breeze that guaranteed your clothes would dry in an hour or so. Again, good planning on Gayle's part, as there was a clothing 'tree' on this balcony, which, while I was there, was never bare of SOMETHING. There are a couple of chaises here, too, and more chairs. I was curled up on one of the chaises reading one afternoon, and woke up at dusk. If you are on this balcony some afternoon (you will NOT be able to resist it), listen for the rustling of the resident Iguana in the bushes below. Stay very still (not hard to do!) and you will spot him, poking thru the leaves on the ground for tasty morsels. He usually shows up around 2pm and 'dines' for an hour or so.
If the two balconies still ain't enough, there is an outside courtyard off the kitchen, which opens up to the main courtyard between the two villas. This is completely roofed in bamboo, tiled floor throughout (try to spot the signatures in the tiles - I found one) with banks of raised, cushioned and pillowed 'couches', more tables, more chairs, lamps, BBQ, and with conch shells, lace coral and plants on every horizontal surface. Trellises hung with bougainvillea frame the gateway to the main courtyard.
The main courtyard I consider beyond words to describe. It should be on a tour bus schedule. Took a whole roll of film and still didn't get EVERY nook .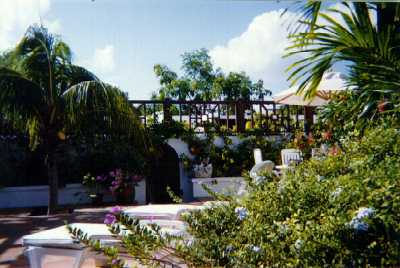 Now when I visualize the villa the images come in a series of snapshots, the bougainvillea trailing into the shower; breeze lifting the sheer white gauze curtains off the balcony; an evening of soft reggae on the stereo, scented candles alight and dancing in the light of the moon shining over the bay and into the room; sitting quietly in the kitchen, middle of the night, listening to the waterfall fountain and trying to capture the day in my journal.
A final word about the villas' greatest asset, Lyn. Housekeeper does not begin to describe her. Far too limited a word. Chatelaine, perhaps. She is a beautiful young woman, in both body and soul and she has my utter gratitude and awesome respect, always, for her physical healing of me, and her physic soothing. If you need to know anything, ASK LYN.
---
---
---
Copywrite...Laine Parnell, December 1997.
Home Page.