A Trip Report to Anguilla
Beaches, Beaches, Beaches
Your Intrepid Reporter, Laine Parnell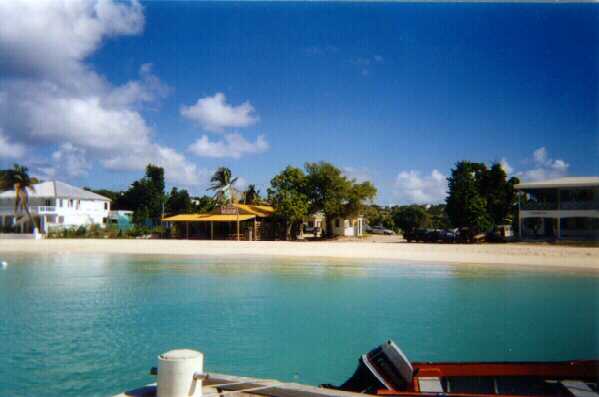 ---
Good grief, where do I start? It was an article in Islands magazine, front page titled "Beaches, Beaches, Beaches" about Anguilla that introduced me to this island.

There are beaches perfect for swimming, beaches perfect for babies to splash at, beaches for shell finding, beaches for night life, beaches for total privacy, beaches for miles- long hand in hand strolling, beaches for snorkeling, diving, beaches for watching pounding surf, beaches for lying semi comatose on a chaise with drink at hand and 'people watching'.
"Baby" Beaches....
Anguilla Trip Report Site Map:

Beaches, Beaches, Beaches.

I'll mention these first, as I hope to bring my 3-year old granddaughter with me on my next trip.

Crocus Bay and Sandy Ground (home of the infamous Johnno's, but during the day, a most benign beach -- see picture above and here).

Both have extremely calm water, the waves barely lapping at the shore, so even very tiny ones can toddle and splash about. There's more parking at Sandy Ground than at Crocus. During the day, park at Johnno's or the huge space next to the dive shop. You'll be ten feet from the beach. Johnno's is open during the day, and has a roofed seating area out front, right on the sand, so you can get eats and drinks and watch your little ones. At both beaches, lots of sail boats bobbing in the water.

Crocus is at the bottom of a very steep, mercifully short hill [Picture.], but Roy's Restaurant is at the bottom, and a wonderful place from which to watch a sunset! I saw lace coral every ten feet along the beach there, and once, an Ibis, stalking majestically along the bush line.

I also was impressed with the beach at Cinnamon Reef. It's perfect for little ones if you are staying there, dead calm, but the public access area is tiny. ALL of Crocus and Sandy Ground is public, and Sandy Ground is a good, long beach.
Strolling Beaches
Rendezvous Bay...my favourite for strolling or jogging. [Picture.] Miles of deserted powdery sand...I never did make it all the way from one end to the other. The East end has the Rendezvous Bay Hotel; if you start your walk from there you might see 2 or 3 people on the beach , keep walking and everyone and everything disappears in a seemingly endless stretch of beach. Eventually you come to the Anguilla Great House, another 3 or 4 people, then back to 'deserted isle' status until you reach the Dune Preserve (Bankie's place) which is a stairway up into the dune with a "bar" at the top (more later).

There is a hotel under construction between AGH and Bankie's place, but it's got about a year to go before it adds another couple of people to the beach. After Bankie's, you get another stretch with nothing there, but that's where I stopped, so that's the end of my eye-witness report. I believe Sonesta is at the West end.

The best place, I found, to park if you want to walk Rendezvous, is on the road for Anguilla Great House. It's clearly marked on the main road, and paved all the way down. Don't turn in at the resort, keep going straight down what appears to be a back lane behind the resort building. Stop when you get to sand. This puts you at about middle of the beach, so you can go either east or west.
"Fun" Beach....Shoal Bay East.
Also, Shoal Bay has the most beautiful sand, blindingly white.

This is the beach to 'do stuff' at. By the way, there are two Shoal Bay beaches, East and West. This is the EAST one. Use your map or just stop and ask anyone how to get to Uncle Ernie's or say you want to meet Pressure King.

Road paved all the way...even the road is fun to drive, with all it's dips and curves, goats popping out at you like 'bad guys' cutouts in a cops' shooting range.

Keep your speed down.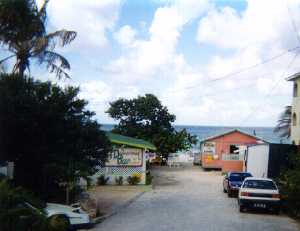 You'll know you're nearing the end of the road when you catch a glimpse of aquamarine water, stop when you are at the top of the hill leading down to Uncle Ernie's. You can see it. Park in the clearing to your left. (you HAVE been driving on the left, haven't you?) The "hill" is only 25 feet, you can take off your shoes now, if you want and stroll down. You'll pass by some cars parked on the hill, but I was never brave enough to reverse outa there, so I don't think you should, either. You'll come out on the beach between two buildings, Maderiman Reef restaurant to your left, and Ernie's on your right.
If you stand there gawking at the incredible sight of turquoise waves coming in over snow white sand, under an azure sky dotted with puffy clouds, tropical breeze ruffling your hair and the smell of Ernie's BBQ ribs making you drool, you will look like a tourist. This is OK. It means you will probably get greeted by the ambassador for Shoal Bay...the Pressure King himself. Do not accept any imitations. No horde will descend upon you, don't get me wrong...but who you wanna talk to is the lanky dude, wearing his name on his T-shirt, a HUGE smile, lotsa gold, and MY headphones! (his bombed out on him one day and I always carry several - just in case mine do.)
If he is snoozing in one of his own rental lounges, toss some sand at him and tell him you came 5000 miles just to meet him. Wakey, wakey.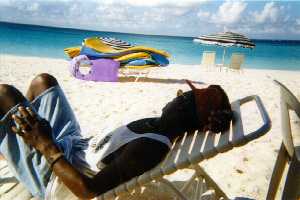 The 'King' is a legend on Anguilla and around the world, deservedly so. He can arrange any kind of day you'd like to have...snorkeling, glass bottom boat ride, diving, lolling around on one of those 'floatie' things, fishing, or just a semi-conscious day lying under a beach umbrella on a chaise with drink and food at your side, waves, sun and breeze shushing you into a stupor from which you will never want to wake. Ask him about ANYTHING on Anguilla; he knows everyone and everyone knows him. If you make his acquaintance on the beach, and you run into him later at any of the 'night spots' he'll always come over to say Hello. If you can, try to catch him dancing one night. You won't believe it! Take pictures as proof!
Shoal Bay East is where you want to spend the entire day, and can have a great time, without lugging anything with you. There are lots of shells on the beach, if you walk a bit to the north east to the 'point'. This is a very, very romantic beach for walking, and in spite of it being 'the' beach, the most people I saw in mid-December was 15 or so.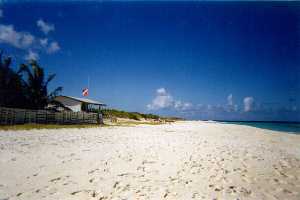 Try to hit Shoal Bay East on one Sunday, at least, and stay for the evening. Sunsets are intense, and you can slow dance on the sand in the evening to the live music at Ernie's (sweet, sweet sax from Mitch) As the night grows, stroll a very short way down the beach to Hardbroke. You'll FEEL that music as you approach, it's Dumpa and band. Very local feel to the place, but don't be shy, go on in and be prepared to DANCE and SWEAT!
---
---
---
Copywrite...Laine Parnell, December 1997.
Home Page.
More on Anguilla Beaches