A Trip Report to Anguilla
ARRIVAL!
Your Intrepid Reporter, Laine Parnell
---
Getting to Anguilla was a labour of love, as I was traveling from the west coast of Canada, which meant 2 travel days each way. Made it imperative that I stay for 3 weeks, instead of 1 or even 2. I took a Transat charter into St. Maartin; the flight was cramped but otherwise uneventful, which is always a good thing to say about flying!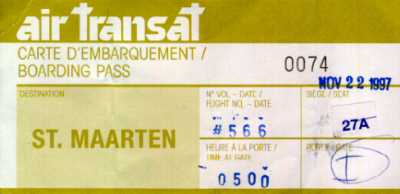 Upon arrival at the airport in St. Maartin, you deplane via an open stairway, something I haven't seen in years. The first thing you notice is the heat! It's best to plan your attire for this. Shuck down as much as possible in the plane before you arrive, as if you wait til you get into the airport, you'll be a sodden mess.
The part of the airport you see as an arrival is far different than what you see departing St. Maartin. It looks like a simple, but huge, quonset hut. (those rounded metal structures on farms), all one room. Appeared to be all metal, and the din is astounding; you can 'feel' each landing plane.
There are 3 or 4 customs/immigration booths; you tell them you are in transit to Anguilla, they stamp your passport and off you go to collect your luggage. Then, just walk out the main door and ask anyone around where the taxis are. (it's just around the corner) Ask the taxi driver to take you to Marigot on the French side, the dock for the ferry to Anguilla.
Once there, put your name on the manifest right away...it's on a clipboard; you won't get on the ferry unless your name is on that list. Try to fill out the customs declaration while on land, as well. It's very difficult to do this while the ferry is in motion. The best place to sit on the ferry is on the upper seating area; you get a better view, more air and there's less motion. All the seating is inside. There's a rack up front for you to put any 'carry on' type bags, if you wish. If the ferry is crowded you might not want to take up a seat with your bags. By the way, if you are a little nervous in boats, as I usually am, don't worry about this one. Anguillians are born to the sea, you can trust your captain and crew, and they don't overload.
Anguilla Trip Report Site Map:
Arrival in Anguilla.
As you approach the dock at Blowing Point, Anguilla, the water will turn turquoise, the exact colour you have seen in travel magazines and brochures, but even more beautiful. You will also get your first scent of Anguilla, before you ever set foot on the land. It's very sweet, and comes out over the water to greet you.
When you dock, if you need a hand with your luggage, wave at the fellow with the wheelbarrow; he's the porter. He'll bring your luggage up and then hand it through the window. I only took one smallish carry-on bag for a 3 week stay, next time I will halve the amount of clothing I brought. Possible that I will be able to fit everything in one large purse! I 'lived' in a cotton skirt and tank top; you can dry your clothes in an hour, so if you want to keep your luggage light, do so!
There is only 1 customs 'booth', do your thing there, then off you go! I had a unique arrival, as I was traveling with 'residents', so didn't have to arrange a car or taxi, but either one would have been easy. For a rental car, you take a taxi to an agency up the road, pay $10 for your Anguillian Driver's License, and remember to drive on the left.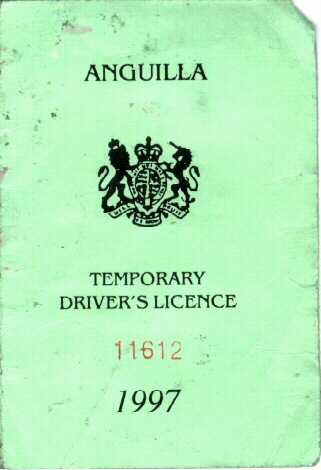 As you leave the customs building, no one will approach you to buy hats, t-shirts, jewelry or even a postcard. There are no booths set up to part you from your money in any way, shape or form. Smile and say Good Morning/Afternoon to anyone you do see; might as well start practicing for Anguillian friendliness right away!
The villa I had rented is about a 1 minute drive from the ferry, up a short winding hill road, and right on the corner is where I saw my first goats, chickens and cows!
The village at the ferry dock is called Blowing Point village. Anguilla is mostly rural, with scattered villages and the main 'town' area called The Valley, which has the post office, telephone company, government buildings and high school contained within, say, a 5 or 6 city block size area.
---
---
---
Copywrite...Laine Parnell, December 1997.
Home page