A Trip Report to Anguilla
Bacchanalia (Food and Drink)
Your Intrepid Reporter, Laine Parnell
---
Granted I did not do a lot of gourmet restaurant hopping while on Anguilla, but this was my first experience in such a setting, and I would think that you couldn't do better as a place to bring any first timer to the Caribbean. One would have a urge to pinch oneself, except that you wouldn't WANT to wake up. I loved it!

I do have to mention a couple of places.
Trattoria Tramonto
The setting for the restaurant is quintessential Romantic.....right on the sand, completely open on the sea side, with palms close enough to reach out and touch. In the evening, the breeze wafts in and around you, gently teasing the flickering candles. Alan, proprietor of Trattoria Tramonto, told Gary and me that he allows 2 and a half hours per table for dinner, with ten tables. It couldn't have been a more perfect atmosphere. My shrimp Gambrile made me groan with pleasure and John and Daryl both had a steak dish with the most tantalizing aroma! They said it lived up to it's promise, but jealously guarded their plates so I couldn't sneak a bite. I had better success almost filching Rina's shrimp appetizer, but as I was about to spear one of them, she realized I had her plate and snatched it away. Foiled again!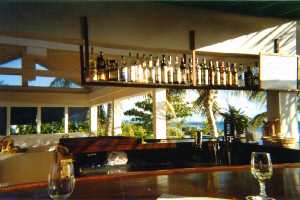 Up to date information on Anguilla restaurants.
Leduc's...
Another place I must mention is Leduc's, on the West End road. When we walked in, my stomach made the most embarrassing sounds as the aromas from the kitchen hit my nose, and Veronica hustled us to a table before I annoyed the other guests by obviously drooling. A basket of bread was on the table before my elbows landed and I started on my downward spiral into pure gastronomic hedonism.

Gary and I had only known each other a day, and it is to his credit as a forgiving soul that he not only continued to sit with me, but actively encouraged my little whimpers and groans of delight as one dish followed another. I picked up a chunk of bread and INHALED. Do you like bread, really wonderful bread, as much as I? Ordinary bread should never pass your lips; use it to wash the floor with. But marvelous bread....ummmmmmm. The bread in that basket was worth the entire trip, I swear.

Until I had the smoked salmon........just an appetizer, but an entire meal in itself. WHEN I go back I will be incapable of ordering anything but the salmon. NOT a local dish, but who cares.

It starts with a huge, crisp sweet potatoe pancake, upon which is a PILE of shaved, smoked salmon, topped with a puddle of warmed cream cheese. Ringing the plate are alternating piles of chopped onion and caviar. You MUST have each of the five tastes in EVERY bite. Gary had escargot, which smelled heavenly, but I had eyes only for my salmon. We were both FULL but bravely split a soft-as-butter pepper steak which we couldn't finish.

Before going to Leduc's run around the island several times in an effort to increase your appetite to do justice to the food. Then Michel FORCED us to have dessert..."just a taste between the two of you" and I don't know how I did it, but when that first bite of crepe slipped between my lips I couldn't stop. I stopped short of licking the plate, barely!

Ambiance? Hmmmm, the dining area is completely open to the night, tables nicely spaced for romantic conversation and hand holding (if you can tear your hand away from fork and spoon) and when we were there the moon was peeking at us through the trees. But, as Veronica herself said "the front of the place looks kind of funky as you drive up" . There's a sign, but otherwise you wouldn't know it's a restaurant. looks like someone's house. You drive round the back and then walk up the steps. So, while you're eating, if you glance downwards over the half wall, you can see your car.

Lift your gaze just a bit, tho, and you've got the lights of St Martin. Personally, for the food I had there, I would sit in a concrete pillbox on a chair of nails. Damn! forgot the name of the waitress! She got such a kick out of my reactions while eating I got a big hug when leaving. Very very good service there, which I understand is not that common in some of the restaurants. I watched Veronica and our waitress at other tables, and they were very warm with everyone.
Ribs.....
My vote goes to Uncle Ernie's. Hands down. I tried a couple other places but kept coming back here, noon daily, for my ribs 'n coleslaw. I asked them to not bother with the fries after the first time, as there's no way I could finish them. So, to burden the poor plate further, they gave me a mountain of their delightfully peppery coleslaw in addition to 3 or 4 racks of ribs on my plate. I intended to sample the chicken, but could never resist the ribs. Huge, hot as hell, so I was always burning my fingers in my haste to pull 'em apart and start chomping. Never used the sauce they have in a squeeze bottle so haven't a clue what THAT was like.

This was my usual afternoon routine.....get to Ernie's by 11 or 12, park my butt at one of the little tables in front, sandals off and toes in the sand, walkman and shades on, ripping and tearing at the ribs and shoveling coleslaw into me, (on several occasions fellow visitors would ask "are they really that good" and I would mumble "yeth" through a mouthful and off they'd go for their own plates. Thumbs up from everyone. ) Thence to snooze and swim.
Cheep Cheep Chicken....
Anguilla Trip Report Site Map:
Bacchanalia (Food and Drink).
A toss up between two places....but as they were different tastes, what the heck, eat both!
If you are heading East on the main road, towards the Valley from, say, the Sandy Ground roundabout, past the George Hill village, to your right you will see a large tree and open space. It's just in front of the airport runway, and just before the Valley/Airport roundabout. There's a trailer sitting there, looks similar to those food wagons at construction sites.
Have the chicken with rice 'n peas. Don't think about cholesteral and slop the sauce from the chicken onto the rice. Eat all the lettuce with gobs of mayo. Don't even attempt to pick up the chicken, it will fall apart. Sit on the wooden box at the 'wire spool' table. Watch the cars and trucks go by, every second 'local' one honking at the trailer; every fifth one pulling in to pick up lunch. This place actually has a name....the Hunter, but there's no sign anywhere.
This is the place I went to for my first meal after I was sick and couldn't eat for two days. Comfort food!
T'other place is only open weekend days. In The Valley on the library street, under the big tree. Not the trailer, although there's that there too (but I never got around to trying it). This 'place' is Mabel Gumbs, her fold up table and a grill. That's it!
Have the conch stew/soup and a piece of chicken. Johnny cake too, if you think you can eat that much. You get the chicken in a scrap of tinfoil, sit sideways in your car with the door open and your legs on the ground and your mouth in heaven. If you're the kind of person who would wrestle your granny for the 'crispy skin' part of Christmas turkey, this is your kind of meal. $1.50 for the chicken, can't remember what the conch was, but I never handed over more than 3 dollars.
One place I kept missing, as they are only open Friday nights, is a teeny little concrete building at the George Hill light. Board outside promised jerk chicken. When I return I am going to line my stomach with a pint of sour cream and give it a whirl.
This is "The Place"....
Actually this isthe most incredible 'bar' I have ever seen or imagined. More like being in someone's home! Gary took me here one night when I expressed the desire to go to a 'local' bar, not a tourist place. But it really is open to anyone.

It's up on the West End road, just before Leduc's, heading West. We went here the FIRST time just before going to Leduc's. There's a big boat in the front yard, with Captain Hughes and Friends written on it. It's on the right hand side of the road.

Don't go expecting to sit at a cozy little table, sipping drinks with your sweetie. DO go if you want to lounge on a couch, falling frequently to the floor with tears in your eyes from laughing at everything Marilyn says. She was a nurse back in New Jersey and her stories will make you howl! People pop in and out, the drinks are CHEAP, and if you don't know what you want, let her make something up for you. You are immediate family as you walk in the door, and a perfect place for anyone slightly shy. Also a perfect place for anyone wackily extroverted!

This is the kind of place you can tell your friends back home about, 'that tiny, undiscovered local bar' that is NEVER in the guidebooks. Marilyn and her husband "the other Captain Hughes" used to operate 'under the trees' behind their home, but after Luis, decided to put a building around the bar.
Lobster.....
If you are in a villa, as I was, and are able to cook up a big mess of lobster or crayfish for yourself, at a fraction of the cost in a restaurant, your best bet is to get in touch with one of the very few local divers. They supply all the resorts and restaurants, but will catch a special order for you.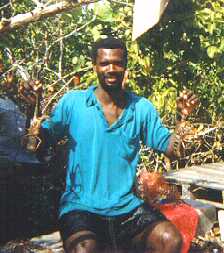 Try Alex Carty, of Little Dix village. 497-5326, which, I think, is his brother's phone number. They will be 15 minutes from their home in the sea when you get them. He can also suggest methods of cooking for you. My favourite....over coals, with only a squeeze of lime and sprinkle of pepper.
Just realized this section was entitled "Food and Drink".
Kinda skimped the drink part, as I am such a weenie I can't drink worth mentioning. However, I did indulge in Mango Shakes at Old Cotton Gin Ice Cream Parlour! Took a picture of the church across the street to try to mitigate the sin. Felt much better and finished my shake.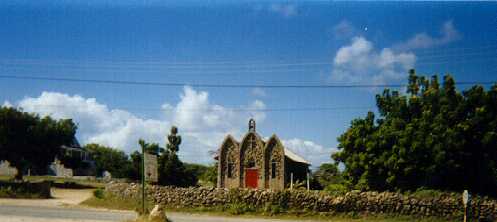 ---
---
---
Copywrite...Laine Parnell, December 1997.
Home Page.