Anguilla Tennis Academy
www.anguillatennis.com
Click link above.
Latest Newsletter!
For the latest happenings at the ATA, check out our latest newsletter: Click Here! (note: requires Adobe Acrobat)
Zina Garrison in Anguilla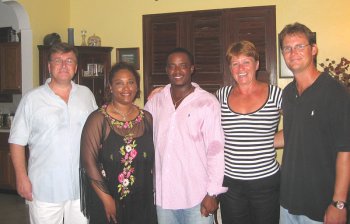 At a reception at the home of Deputy Governor Mark Capes and Mrs Capes, members of the Anguilla Tennis Academy (ATA), sponsors and supporters welcomed former top tennis player Zina Garrison to Anguilla. Capes welcomed her along with her manager, Gail Monk and friend Denise Hampton, saying that it is marvelous she is showing an interest in Anguilla and particularly the children who are in the tennis programme. Director of the ATA, Jason Allen thanked the Capes for their support over the years. He introduced Zina who was the number one junior Wimbledon champion in 1981, has won 14 single and 20 doubles events during her career including a gold medal at the 1988 Olympics. Her highest ranking was number four in the world. She is currently a member of the board of the United States Tennis Association and is the captain of the USA Fed Cup Team.
Garrison thanked the ATA including founder Mitchelle Lake and Allen, saying it is very special to be in Anguilla. She compared the Anguilla tennis programme to her own experience growing up and says she is pleased to be able to help the children in Anguilla. She noted that tennis opened lots of opportunities for her, including meeting the Queen and three Presidents, and she believes it can do the same for young Anguillians.
Exhibition tennis match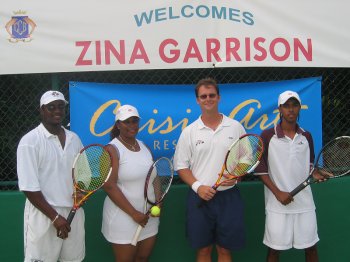 Tennis lovers in Anguilla were delighted to attend an exhibition match at CuisinArt Resort on Friday May 5 featuring visiting tennis player, Zina Garrison. It was a doubles match between Garrison and Mitchelle Lake against Jason Allen and Denny Derick. The many spectators admired the level of play and applauded often. The one set match went to a tie break and was eventually won by Garrison and Lake.
Generous loan to ATA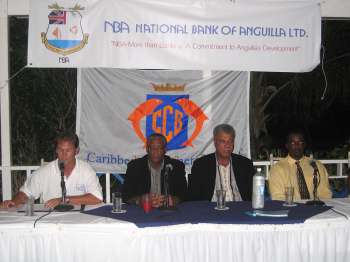 The National Bank of Anguilla and the Caribbean Commercial Bank announced a loan of US$1 million from each bank for the completion of the Anguilla Tennis Academy (ATA). Chairing the event was Director of the ATA, Jason Allen, who welcomed the supporters, sponsors and visitors to the event. A special welcome was given to Zina Garrison who has been visiting the island for the past week.

Chief Executive Officer of the National Bank of Anguilla (NBA), Valentine Banks said that he was pleased to assist the ATA and they have been associated with tennis and in particular the tennis programme for many years. Preston Bryan, Managing Director of Caribbean Commercial Bank (CCB), said he had no difficulty convincing the directors to make the loan. He believes the new academy will help many of the youth of the island and he is looking forward to seeing its completion.

Founder and President of the ATA, Mitchelle Lake said that he started the ATA in order to give back to the children of Anguilla some of the advantages that he had through tennis. He paid tribute to Eric Martineau, the father of Anguilla tennis, for introducing the game to him and for all his support over the years. Special thanks was given by Lake to Zina Garrison who has coached the children in the tennis programme and done a lot to renew the energy of all involved.

Garrison pledged her continued support to the ATA saying that she will be there whenever they need her. She commented that she has enjoyed her stay in Anguilla and has been accepted and welcomed to the fullest. She thanked the ATA and especially Jason and Mitch for believing in her.

The main building of the Tennis Academy at Blowing Point is nearing completion with just windows, doors and painting to be finished. The six tennis courts and stadium court are to be started before the end of the month.

I am happy to bring you the latest edition of the ATA Monthly. The month of May will prove to be very exciting as you will see in future press releases and newsletters. This particular newsletter tells of things to come and things that have already occurred. In this edition you will find:

- Zina Garrison to visit the ATA from May 1-8
- 2006 summer camp dates are set
- ATA and Cuisinart partnership results in high level coaching performance
- Kids in competition over the Easter break
- This month's tennis stand outs

Enjoy, and as always, I appreciate any comments!!!!

Warm regards,

Jason Allen
Former Wimbledon champion and USA Fed Cup Captain Zina Garrison to visit the Anguilla Tennis Academy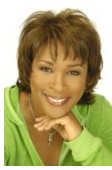 The Anguilla Tennis Academy was established in 1996 to offer the island's children an opportunity to strive for achievement both locally and internationally through sports. One of the Academy's mandates is to provide the best quality instruction to the children. To that end, the ATA has invited Zina Garrison to visit Anguilla .

Ms. Garrison has agreed to come to Cuisinart Resort and Spa from May 1 to May 8 to run a series of tennis events. She was ranked number one in the world as a junior having won both the junior U.S. Open and junior Wimbledon. In the 1988 Seoul, Korea Olympics, representing the United States of America, she won a bronze medal in singles and a gold medal in doubles with partner Pam Shriver. In 1989 she won four singles titles on the WTA tour as well as four doubles titles including the most prestigious grand slam, Wimbledon. In her career she has won 14 singles titles and 20 doubles titles on the Sony Ericsson WTA Tour amassing $4,590,816 in prize money alone. Zina Garrison is also only the 12th woman in history to win over 500 matches with her total wins at 587. She reached as high as number four in singles and number 5 in doubles during her tenure on the professional tour. The aforementioned accomplishments helped her to gain entry into the Texas Women's Hall of Fame and she is sure to win a bid into the International Tennis Hall of Fame. She also sits as a board member of the powerful United States Tennis Association. Moreover, Zina is currently the captain of the USA Fed Cup Team.

Zina Garrison not only stands out for being a great tennis champion, but she was also one of the pioneering African American athletes of her time. She undoubtedly set the stage for young athletes such as Venus and Serena Williams. She was also the first African American woman since Althea Gibson to reach a Grand Slam singles final in 1990. At Wimbledon, Garrison upset Monica Seles and Steffi Graf (arguably the best woman tennis player of all time) in back to back matches before losing the final to Martini Navratilova 6-4, 6-3.

The ATA is thrilled to have an athlete of her stature to visit the future tennis stars of Anguilla. The ATA looks forward to discussing plans for tennis in Anguilla with Ms Garrison. Her insight on how the ATA should move forward will be invaluable. The ATA also looks forward to her review on the current state of tennis in Anguilla. She also heads the Zina Garrison Foundation which provides funds and support for the homeless, youth organizations, anti-drug groups and other charitable organizations. She also founded the Zina Garrison All-Court Tennis program in 1992, providing inner city kids the opportunity to build self-esteem through tennis. Her expertise in the above areas will most certainly be beneficial not only because of her experience with non profit organizations such as the Anguilla Tennis Academy, but because of the exposure she can provide to the world and the awareness she can create in her travels.

During her one week stay in Anguilla, Ms Garrison has agreed to participate in many events: She will visit the children in the after-school program at the James Ronald Webster Park on two separate occasions. A tour of the new ATA facility is planned. Ras B has invited her to speak on heartbeat radio. The top junior tennis players will be given a special clinic, and she will also hold a clinic for Cuisinart guests. A much anticipated event is the exhibition match planned between Ms Garrison against the ATA and Cuisinart tennis director Jason Allen.

Mitchelle Lake, founder of the ATA stated to The Anguillian, "I am encouraged to have a former top tennis professional with such outstanding accomplishments in the sport visit our program and facility. Indeed, our children in the program and coaching staff will gain invaluable knowledge from Ms. Garrison experience and knowledge of the game. I applaud the efforts of Jason Allen and the continued generosity of the sponsors who worked together to make this special visit a reality."

Ms. Garrison has generously offered to donate her time free of charge to the whole program in Anguilla, as she is dedicated to worthwhile causes involving tennis and youth. Her trip would not be possible if not for key sponsors in the community such as Cuisinart Resort and Spa, American Eagle, and Viceroy.

Scheduled events for Zina Garrison

Monday May 1 - Zina Garrison arrives to Anguilla

Tuesday May 2
- Tour of the Anguilla Tennis Academy state of the art facility provided by Mitchell Lake and company.
- Top junior clinic at Cuisinart with the ATA's top kids 4:00-5:30

Thursday May 4
-Interview with Heart Beat Radio

Friday May 5
- 9:00 am - 10am Clinic for guests at Cuisinart
- Exhibition match with ATA tennis director at Cuisinart at 4:30pm

Saturday May 6
- Tour Anguilla in the morning for photos etc…. Visit the small group on the way.
- Work with the kids in the park from 10:00-11:30 am. (The advanced groups)
- Lunch meeting with the ATA coaching staff
- ATA Sponsors Meet and greet Zina Cocktail Party at the Anguilla Great House 6:30 pm

Monday May 8
- Zina returns to the USA

Articles this month:

The ATA Elite Group
New scholarship opportunities
The PTR International Symposium
Cocktail party for Founding Members Club
Vallan Hodge named Anguilla Tennis Player of the Year

Tennis Channel partners with the Anguilla Tennis Academy
On February 18, 2006 the Tennis Channel began airing a Public Service Announcement (PSA) of the Anguilla Tennis Academy (ATA). This 30 sec. PSA was produced by Greg Travis of Travis Television in Nashville, TN. The Tennis Channel broadcast to every state and to the top twenty television markets in the United States. The network champions the game with exclusive, comprehensive tournament coverage that matches the intensity of the sport's competition schedule. Tennis has long been one of the sports world's most storied entities, yet its popularity continues to surge. Drawing in millions of new fans each year, tennis has hosted an array of colorful personalities, from legends John McEnroe, Billie Jean King, Martina Navratilova and Jimmy Connors to new idols Andre Agassi, Andy Roddick, and Serena and Venus Williams. The Tennis Channel taps into the phenomena of these high-octane personalities, threading tennis' ever-evolving place in pop culture with the explosive power of the sport on the court. The ATA, through this partnership will be exposed to millions of tennis enthusiasts around the world thus making it an internationally recognized tennis facility. When asked about this remarkable feat, Mitchelle Lake founder of the ATA replied, "I am grateful to the Tennis Channel for this gratis exposure. It is my hope that as we strive to create awareness about the ATA and its programs that people will continue to embrace us and support our mission." Articles this month:

Ari Storch donates USD 5,000 to the program fund in honor of Vallan Hodge.

Jason Allen to travel to the USPTR International Symposium.

Tennis Channel to air 30 second Public Service Announcement on the ATA.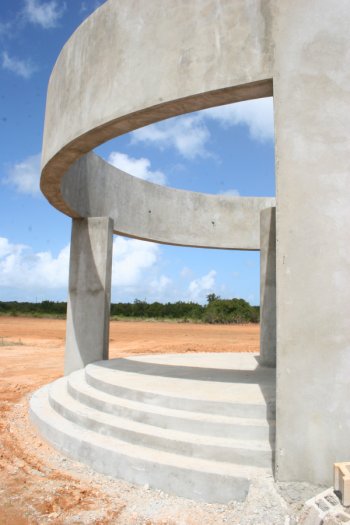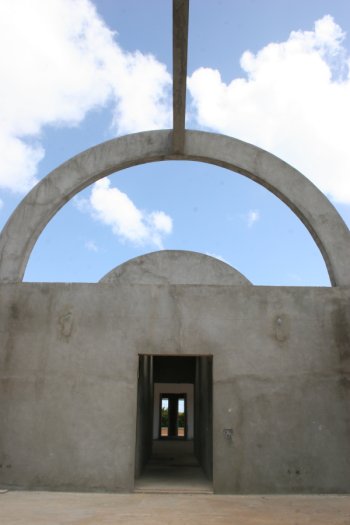 Click picture to enlarge. Click link above for many more pictures.
Photographs by Ivor Hodge (hodgei@anguillanet.com)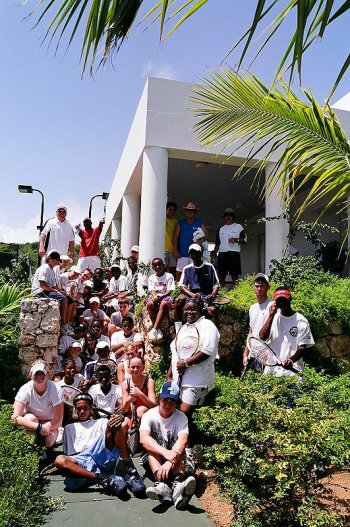 Kamique Properties signs on as initial member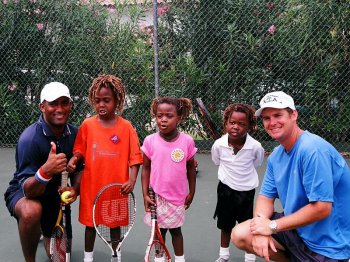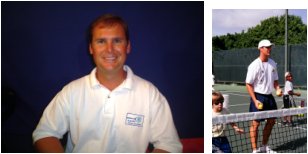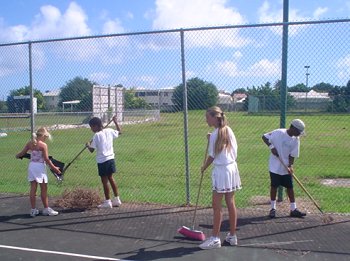 The ATA Newsletter:
---
Summer Camp 2005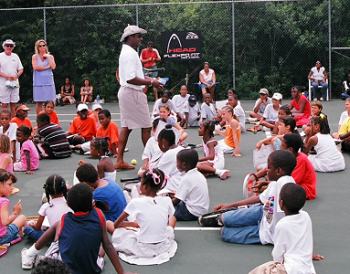 Building World-Class Tennis in Anguilla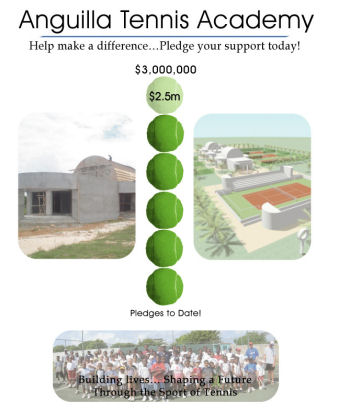 ATA News Headlines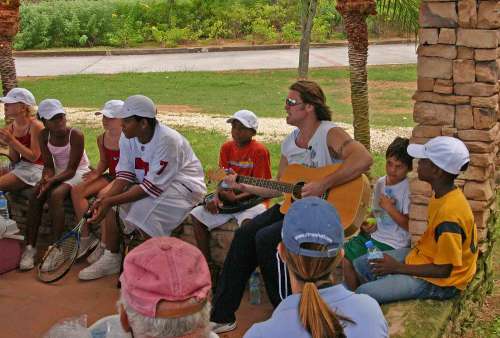 4 Pages of "Country-Caribbean" Photos ATA Goes Video! Greg Travis, a professional video producer from Nashville, has created an excellent DVD video about the tennis academy. Although it is too large to download from our web site, he also created a short video advertisement to run on cable TV in Anguilla. Download either of these formats:
ATA Video Advertisement- Windows AVA format
Progress Report 2002- Architectural drawings donted by Myron Goldfinger and Jeff Taylor and Associates
2003- Government donated six acres of land in Blowing Point and special concessions to aid in the construction of the project
2003-All Island Exports pledged building materials including, windows, doors, and plumbing to asist with the project
2003-ABC Supplies pledged 10 pallets of blocks towards construction
2003- KPMG pledged accounting services towards the construction phase of the project
2003- Law firms of Caribbean Juris Chambers-Anguilla, and Helton Erwin & Associates pledged legal representation and other services
2003- Tropical Shipping and Haskins LTD pledged shipping assistance from Miami and Puerto Rico for the construction phase of the project.
2003- National Bank of Anguilla pledged US$75,000 towards the construction of a tennis court
2003- Caribbean Commercial Bank pledged US$85,000 towards the construction of Center Court.
2003- Private donations in pledges from international friends exceeds US$100,000
2003- Superior Industrial Equipment pledge heave equipment assistance towards the construction phase of the project.
2003- Anguilla Social Security pledged US$75,000 towards the construction of a tennis court.
2003- Groundbreaking!
"Buy a brick" campaign has raised more than US$10,000 in cash and pledges to date.
2004-2005 - construction proceeds rapidly!
We are gratified and excited by the breath of support that has allowed us to achieve more than half our goal at this stage of the project. We would liket to thank all those who have contributed and would like to encourage others to participate and help make this project a reality.
If you would like to make a tax deductible donation, please contact Mr. Mitchelle Lake-Founder at anguilla70@yahoo.com Thank you.
You Can Help: Buy a Brick
Help build this facility for Anguilla's children. All donations are tax-deductible in the USA if desired. The opening fund drive will be for the purchase of bricks for $100 US each, with names of the donors inscribed. These bricks will be a walkway to facility. (Each brick can have up to 3 lines of text, with a maximum of 14 characters per line; characters include space, period, dash, etc.)
There are four ways to get a brick:
1. Buy a Brick Now With your Credit Card
If you would like to purchase a brick instantly with your credit card, and you don't need a USA tax receipt, you can use our secure on-line "brick" page (click link above). This uses SSL encryption to protect your credit card information.
2. In Anguilla, Buy a Brick in Person!
In Anguilla, make your cheque payable to the "Anguilla Tennis Academy Facility Fund" and drop it by the Anguilla Community Foundation office in the NBA Corporate building (tel 264.497.7209 or 497.2949 or PO Box 1097). Don't forget to mention the names to be inscribed on your bricks!
3. In the USA, Buy a Brick with a Check
In the USA, we are collecting donations through the Anguilla Progressive Assoc of NY. Make your cheque payable to "APANY/ACF-ATA fund" and mail to APANY, 579 Mineola Ave, Carle Place, NY 11514. This is a registered US charity and can provide a tax deductible receipt. Be sure to enclose your return address so that we can send you a US tax receipt.
4. To Inquire About Bricks!
To inquire about bricks and other, more substantial, sponsorship opportunities, use this web form or contact Mitch Lake at anguilla70@yahoo.com: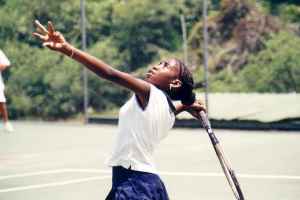 Together We Can Make This Happen
Tennis Academy Bricks
Goal 5000 Bricks (Last updated Oct, 2004)
Ephraim W. Helton, Camp Be Aware, Dennis and Diane Sheehan, Dr. Page Edgar, Michael and Eileen Friedman, Virginia Braithwaite, Bennett and Louis Pritchard, Cathy and Ray McLaughlin, Caribbean Silk Screen, Anguilla Craft Group, Rocco Rosano, Governor & Mrs. Johnstone, Mary Lou Cummings, Pratt, J & B Gas Services, Joan Hill, Jean Phillips, Mr. and Mrs. Laurie Gumbs, Mr. and Mrs. H. W. Hofland, Mr. Jeff David/Mrs. Kim Straubing, Mr. Nik Douglas, Mark and Tamara Capes, Mr. and Mrs. Stanley Reid, Mr. and Mrs. Heppell, Rhona Richardson, Jeanne /Richard/Ryan Ross, Michael Beckman, Edward W. Demming, Susanne Schroder, Michael Fleming, Rebecca L. Harris, Virginia Richardson, Joel & Isabel Motley, Barbara Peters, Robert Kharasch, Augustua Nasmith, Paul & Judith Carmichael, Maria Hawkins, David & Kimberly Coburn, Donald & Fiona Curtis, Evan or Muriel Owen, Joseph Andriola/Judy Ann Carty, Scotia Bank Anguilla Ltd., St. Mary's Anglican Union, Royal Air Force/Isabel Martineau, Michael P. Ryer, Highway Rent -A -Car, Todd E. Tiefenthaler, Timothy J. Byrne, Anguilla Sailing Association, Clarina Ryder, Skiffles, Alexander Crabtree, Althea Turner, A. Raymond Tye, Highway Rental, Peter Oliver, Mr. Andrew Demming, The Hill School, Mr. and Mrs. Harless, Mr. and Mrs. John MacEachern, Mr. and Mrs. Bob Crandall, Mark & Wanda Plummer, William Arvanites, Joel S. Sommer, Alfonso Martinez, Robert & Nancy Schachaner, Wendy & Neil Freeman, Alan & Helen Huckle, The Todd Family, Les Burns, Bud & Mel Carter, The Landrys: Rick, Livia and Sebastian
RICK, LIVIA & SEBASTIAN Hannah Valdez, Chicago, IL. Gardner-Webb University '99
John & Susan Sias, Married May 8, 1999, Shoal Bay West
Sue and Bob Fernandez, Blue Bell, Pennsylvania.
Robert & Suzan Fine
Andie V. Hodge
Mr. George Sarkus
Breeze
Mark & Sally Baumwell, Monte Sereno, California.
Vince Pisano and Lissa Roth, Norwalk, CT.
Mark & Wanda Plummer, Greensboro, North Carolina.
Rebecca & Will Arvanites, Providence, Rhode Island.
Joan Hill, The Valley, Anguilla.
Javiette S.S. Richardson, Willine Richardson, Ezra A. Richardson, Thomas F. Richardson, Hulda E. Richardson, The Valley, Anguilla.
Janelle Crawford Roaches Hill, Anguilla.
Valdez Johnson, Swing High, Anguilla.
Jean and Irvin Phillips, West Indies Concrete, Shoal Bay and Deep Waters, Anguilla.
Daniel E. Pavon, Old Ta, Anguilla.
Aquarobic Limited, Old Ta, Anguilla.
Aquarobic International, Front Royal, Virginia.
The Anderson Family, Lake Forest, Illinois.
Jerron Fleming, Old Ta, Anguilla.
Preston. B. Bryan, South Hill, Anguilla.
Erlyn A.Bryan, South Hill, Anguilla.
Jerriece Fleming, Old Ta, Anguilla.
Jerrwyn Fleming, Old Ta, Anguilla.
Jewelle Fleming, Old Ta, Anguilla.
Pauleta Gumbs, Anguilla, The Valley, Anguilla.
Dr. Alfred and Sue Ellen Filar; Glen Arm,Maryland.
Lilianna Claire Filar - Glen Arm, Maryland.
Omar "Oms" Davis, OMS Tennis Academy, St. Lucia.
Bill Riddle Family (Tennis Unlimited Promotions) Antioch, Tenn.
Girish Amar, Manassas, Virginia.
Mr. and Mrs. Michael Friedman.
Robert and Meredith Cox, Fayetteville, Arkansas
Caleigh and Lynden Steele, Norwalk, CT
Fayme M. Melby and Herbert I. Melby, The Valley
Steven Seligman and KK Meyer, Bloomfield, CT
Calvin Lake, Janet Lake, Molissa Lake, Marva Lake, Marlon Lake, The Valley
Michael Fleming and family.
Mitchelle Lake
The Walsh Family: Max, Corie, Marcia and Jim. "Thank you Mitch"
Green Family: Bob, Mary Ann, Bobo, Flash and Guiseppe, news.ai, Tina Crawford, Ronda Verbeek, Evadney James.
Your purchase of a brick will serve as a daily reminder to the children of those who helped pave the way for their future development.
Bottom Line: The Anguilla Tennis Academy will provide opportunities for young children through the sport of tennis, while strengthening the sense of community, knowledge, health, and at the same time, promoting sports tourism both internationally and on the island.
---
200 Children Say "Thank You!"