Tennis in Anguilla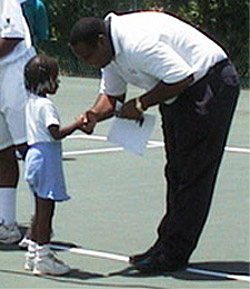 Our Best Wishes To Those
Who Made the Summer
2001 Camp 2001 Better Than Ever
Each summer for the last six years Mitch Lake has organized a summer camp to teach young people in Anguilla the fundamentals of tennis. With his local coaches to help teach the 175 children, Mitch then invites overseas pros to visit for intensive coaching of the children. Not only is this healthful and fun for the children, but it can also pay off for them in life. Mitch knows, as he was able to attend college in the USA on a tennis scholarship. Mitch is now a school teacher in Virginia.
The Daily Herald: 175 young persons enjoying Tennis Academy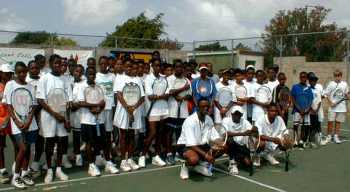 ANGUILLA-The annual Tennis Camp and Academy is now in its second week and 175 children are benefitting from coaching and playing the game at the Webster Park courts. Organizers Mitchelle Lake and Damien Hughes are running the programme for the sixth year with the main objectives to develop and enhance tennis skills, create a love for the game and encourage exemplary sportsmanship.
The camp runs daily from 8.30- 12 noon and is for children from seven to seventeen and includes many keen players who have participated in previous camps. This year the Academy is being sponsored by local businesses including All Island Cable Television, American Eagle/American Airlines, Carimar Beach Club, Triple K Car Rental, Highway Car Rental, Anguilla Printers, Caribbean Silk Screen, Scilly Cay and some twenty other businesses.
"I am pleased with the continued support given to the Academy by our local sponsors," Mitch told the Daily Herald. "Their constant dedication towards the programme is a clear indication that they are concerned about the children and the future of tennis in Anguilla."
Next week, starting on July 23, the Academy moves to the west and coaching will take place on the courts of Carimar and Malliouhana Hotel. Three overseas coaches will be joining Mitch and Damien. Bill Riddle, a US Professional Tennis Registry top teaching pro from Tennessee is one of the coaches. Chris Wade from Texas, a former coach in Anguilla, and Jonathan Collazo from Puerto Rico are the other two who will all be staying at Carimar. The week will end with tournaments among the participants and a cocktail party for the sponsors.
Story by Brenda Carty
---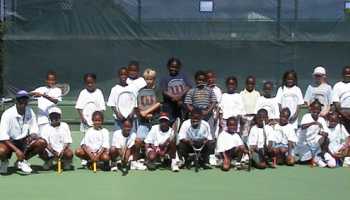 Group Pictures
For group pictures of all the children and their coaches: Click Here.
---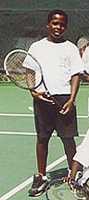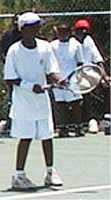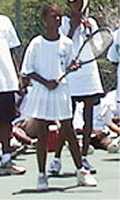 What Do the Children Say?
"I would like to be a tennis player because it improves my concentration, because I would like to travel the world and because it is fun. I would like to improve my serve. My favorite tennis player is Pete Sampras."

To read more of the children's thoughts: Click Here.
---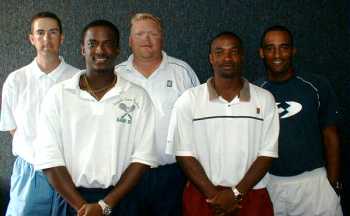 Overseas Coaches Praise Program
ANGUILLA-The three overseas coaches who are this week in Anguilla for the final week of the Tennis Academy are full of praise for the excellent work of organizers Mitchelle Lake and Damien Hughes.

Chris Wade from T Bar M Racquet Club in Dallas Texas was previously in Anguilla from 1993-1997 as the tennis pro at Cap Juluca Hotel. He said that there are lots of opportunities for young tennis players from Anguilla but that there is a great need for a tennis facility here.

Bill Riddle who is the Tennis Director at the Blue Grass Yacht and Country Club in Nashville, Tennessee spoke of how he is really enjoying being in Anguilla and working with Mitch and Damien. He explained a scheme whereby tennis players from Europe visit his club and have an exchange visit with his players. He suggested that something similar could be arranged with Anguillian players.

The third coach is Jonathan Collazo from Puerto Rico, who is the Head Tennis Pro at the Dorado del Mar Tennis Club. He says he is really excited to be in Anguilla and assisting with the coaching at the Tennis Academy. He also is interested in an exchange and tournaments with players from Puerto Rico. He too stressed the need for a facility for the players.

For the full text of this story from The Daily Herald: Click Here.
---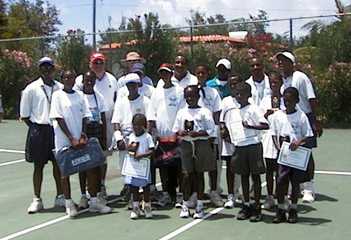 2001 Tournament Winners
The summer tennis camp comes to a climax with a tournament.

This year, the girl's Champion was Shara Proctor with Shelissa Williams as runner up.

Randal Petty was the Boy's Champion and Darryl Ruan was runner up.

Both champions are two-time winners.
Tennis Camp Awards
The Tennis Academy came to a close on Friday morning, July 27, following three weeks of tennis coaching for some 175 children.

Organizers Mitchelle Lake and Damien Hughes were full of praise for the children who had exhibited a positive attitude by attending regularly and with enthusiasm.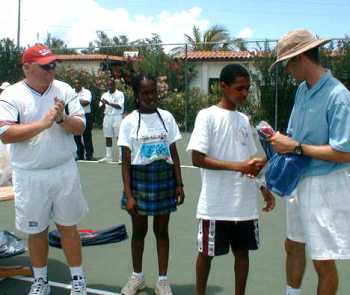 In addition to Lake and Hughes, there were three overseas coaches for the past week. The coaches each gave recognition to children in their groups who had shown special talent, sportsmanship or discipline and presented them with bags or racquets.
Sixteen boys and sixteen girls have been chosen from the over twelve year olds to compete in tournaments starting on Monday July 30. From the under twelve group awards were given to the most disciplined girl, Avern Gumbs, the most disciplined boy, Kenon Proctor. Also two girls who were the most improved, Janielle Proctor and Melissa Mussington received awards, and the most promising under twelve award went to Shridath Rey.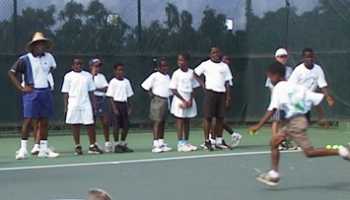 Sponsors Honored
At a cocktail party on Saturday July 28, 2001 at Paradise Cove, the sponsors of the Tennis Academy were honoured and awarded. The organizers, Mitchelle Lake and Damien Hughes expressed their gratitude for six years of dedication and support from the sponsors.

The Governor Peter Johnstone praised the "two worthy young men" who ran the tennis academy and urged the businesses to keep sponsoring the event. Leslie Richardson, speaking on behalf of the Tennis Association praised Mitch and Damien and thanked the visiting coaches, but said that without the sponsors it would not have been possible.

Mitchelle Lake thanked everyone noting that this year has been very special and he is pleased with the progress made. Awards were presented to Caribbean Silk Screen, to the National Bank of Anguilla, to Scotiabank, the Highway Rent-a-Car and to All Island Cable Television, which is the largest local contributor. He also thanked Malliouhana Hotel and Carimar Beach Club for the use of their courts, the bus drivers who were so supportive, and the parents of the children.

Chris Wade from Texas, one of the visiting coaches, praised Mitch and Damien for their passion and enthusiasm that has brought the Academy to what it is today. Jonathan Collazo from Puerto Rico says that he will really take back many memories and thanked the organizers and the children involved. He said that he hopes to return next year.

Bill Riddle, the third coach, who comes from Tennessee said that the Professional Tennis Registry is one of only two organizations in the world that identifies coaches and professionals. Whilst here he held a workshop with Mitch and local players, and as a result. they have become official certified PTR coaches. He says that there are coaches in 121 countries around the world and now with Anguilla added it is 122. In addition he is so impressed with the Tennis Academy that he is hoping to have children from Anguilla in Nashville Tennessee at his Club in 2001.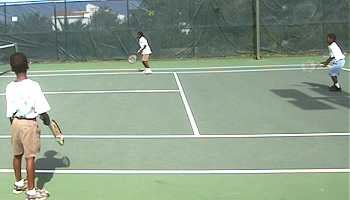 Millenium Dream
The Anguilla Tennis Academy has set as a long-term goal the creation of a professional tennis facility in Anguilla. The Academy would like to build on the momentum that has been created over the last four years, developing a permanent tennis programme in Anguilla and developing tennis tourism. From this base, Anguilla will be able to host regional competitions, create more home-grown tennis pros for the tourism industry, and even someday perhaps host a Seniors Pro tournament in Anguilla.
Thanks To Everyone
Pictures are courtesy Aly Armstrong, Brenda Carty, Bob Green, Roy Rogers, Chris Mason, and Aldo Jackson.