Anguilla Tennis Academy Inc.
Mitchelle Lake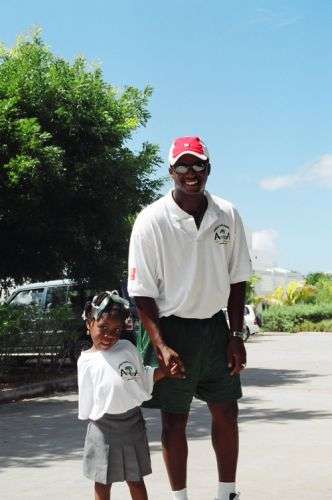 Age: 29
Date of Birth: 11/7/75
Origin: Anguillian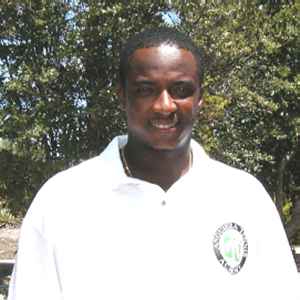 Mitchelle Lake is a very accomplished man as he has achieved many accolades at such a young age. He is the founder and director of he Anguilla Tennis Academy, a program that is currently in its ninth year of operation. Nevertheless, 2004 has been monumental because of the groundbreaking at the state of the art tennis facility being built in the Blowing Point area of Anguilla. This facility and program are Mitchelle's lifelong dream becoming a reality. His undying devotion to his country speaks for itself and is tangible in the hearts of the many children he has aided in not only athletic prowess but character as well.
Here is Mitch at a training camp in Pawling NY with (left to right) James, Frank and Peter.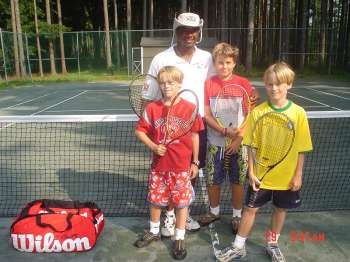 His dream of bringing tennis to the island of Anguilla began while attending Gardner-Webb University in North Carolina. He realized that he was afforded an opportunity to receive an education free of charge based on the fact that he excelled at tennis. Anguilla has no university, therefore children must seek other avenues and not everyone can excel at academics and tennis like he has.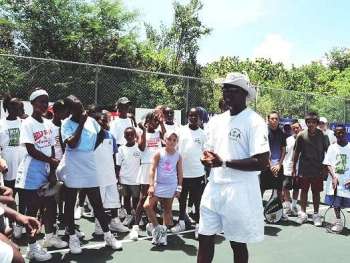 Tennis can be a medium by which children can learn a great deal about life through a sport that teaches discipline, character, and a strong work ethic. Moreover, the values learned through the sport can be translated into other facets of life, mainly academics. Therefore, in the summer of 1996 he decided to give back to his fellow countrymen by dedicating three weeks of the summer by providing a free summer tennis camp for children on the island who possessed an interest in tennis. Since the ATA's inception, the program has grown beyond imagination. Over 1000 children, both national and international, have been influenced by the sport and program.
Although his dream was to give back to the community, the overwhelming support he received made him realize that the facilities were inadequate on the island. Therefore, he set his goals high and with much help from his country and members of the international community, the state of the art tennis facility is currently being built. Mitchelle plans to keep the program as a non-profit organization with all proceeds being donated; to the Anguillian children.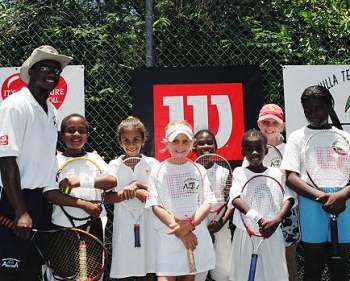 Mitch is truly an exceptional human being whose relentless devotion to his country is doing much for Anguilla's youth. Mitch has been quoted as saying, "My life is what it is today because of tennis and all I want to do now is give back so that people can have similar experiences like mine. The Anguilla Tennis Academy is my lifelong dream and I am proud of the children and other Anguillians for supporting me in this worthwhile endeavor. Any child who wants to excel at tennis and go to college will receive all the help he or she needs."
Bringing Tennis To The Children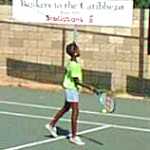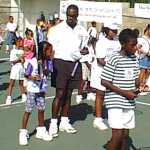 Personal information about Mr. Lake
Mitchelle Lake, native of Anguilla, was born on November 7, 1975. He began playing tennis at the age of 11, under the instruction of Mr. Eric Martineau. He captured his first local title when he won the 1990 Eric Martineau tennis tournament. Other local and regional accomplishments include:

· 1992 Eric Martineau Men's Doubles Finalist
· 1992 Eric Martineau Men's Singles Finalist
· 1993 Eric Martineau Men's Singles Finalist
· 1993 Eric Martineau Mixed Doubles Finalist
· 1993 Anguilla Open Men's Singles Winner
· 1994 PBK Caribbean Grand Prix Men's Doubles Finalist
· 1994 Port De Plaisance Men's Doubles Finalist
· 1994 Port De Plaisance Singles Finalist


In June of 1999, Mitch completed a B.Sc. degree in Mathematics at Gardner-Webb University in Boiling Springs, N.C. He was a prominent member of the Gardner-Webb University Men's tennis team where he received many honors such as the Most Improved Athlete. Mitch was also a member of the South Atlantic Conference Men's All Academic Team and the Gardner-Webb University Academic All Sports team. He also won many matches at the collegiate level in both singles and doubles. He also holds tournament titles from sanctioned USTA Men's Open events; among those are the Peachtree Open, Nc Men's doubles champion.

You can contact Mitch at:
e-mail: anguilla70@yahoo.com