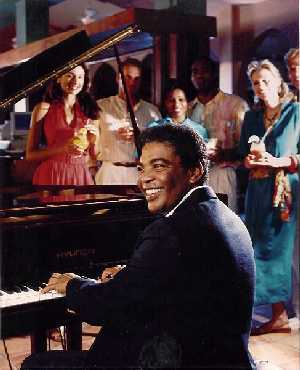 Live Music
Oliver's Seaside Grill offers live music to compliment your gourmet dining.
Frankie Rogers
Live music three nights a week by Frankie Rogers on keyboard, Monday, Wednesday and Friday, 7pm until whenever.

Frankie has extensive international experience and plays a large variety of music: jazz, calypso, soca, old standards, just about everything. And he takes requests -- ask him to play "your song".

Born in Anguilla, Frankie started playing steel drums as a child, then worked for many years playing saxaphone and keyboards in USA and Canada, but came back when it was "too cold".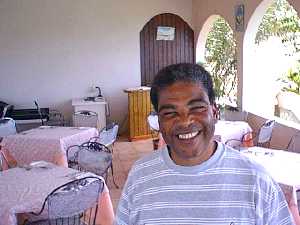 Frankie Rogers also operates Intertrack Recording Studio on Long Road, where he has digitally mastered new CDs for musicians such as the Unique Touch Gospel group, Jason Lloyd, Evan Webster's new Country and Western CD, Calypsonian Hot Shot, and the first Vito Band CD.
You will still enjoy Frankie's music if you finish your evening in Oliver's Cock Lounge, a romantic hideaway downstairs from the dining room and right over the water.