Evan and Nolan
Excellent Adventure
A Camp-out Weekend
Click any picture to enlarge.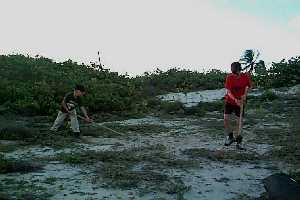 Griffin offers to take the boys for a camp out.
Starting late on Friday afternoon means Nolan and Evan have to rush to clean up the site for the tent.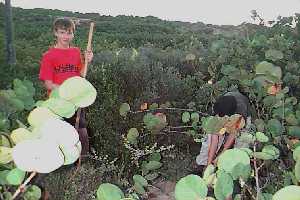 Tip: Every camp site needs a potty.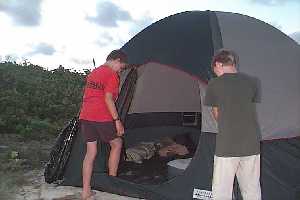 The tent is finally up.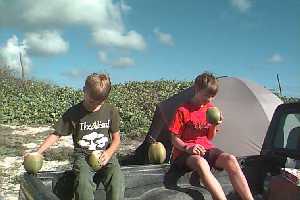 Next morning, Griffin teaches them how to climb a palm tree.
Yumm, Yumm... Not!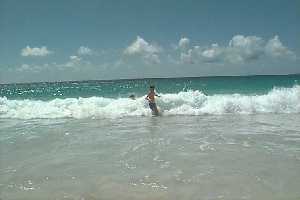 Luckily, the secret camp site is right next to the beach.
Auntie Mary and Uncle Bob and Johanne and Gabi and Samantha came to visit the camp fire on Saturday night, but it rained a little bit and we all had to hide in the tent.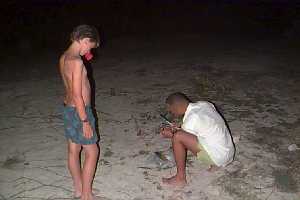 We were going to roast marshmallows, but the heat of the tent at midday melted them all into a single lump.
Griffin tries to light fireworks in the wind.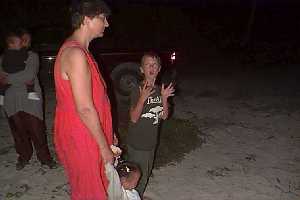 Nolan explains the safety precautions needed for fire works to Mary Ann and Gabi ("It didn't go off--can I play with it?"), while Johanne and Samantha watch from a safer distance.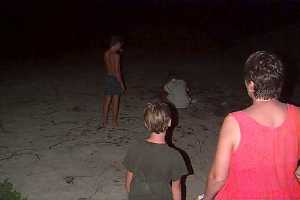 The night ended with a final spectacular fireworks display. The boys also went to Rendezvous Bay and played chess and ate Chinese food, and ...

They did eventually come home on Sunday, but only late in the day. Erin and Breeze and Morgan tracked them down on Sunday morning and took them away from Griffin to play on Shoal Bay for the rest of Sunday.
Return to Evan and Nolan Main Page