Alisal
By Nolan
June 18th, 1998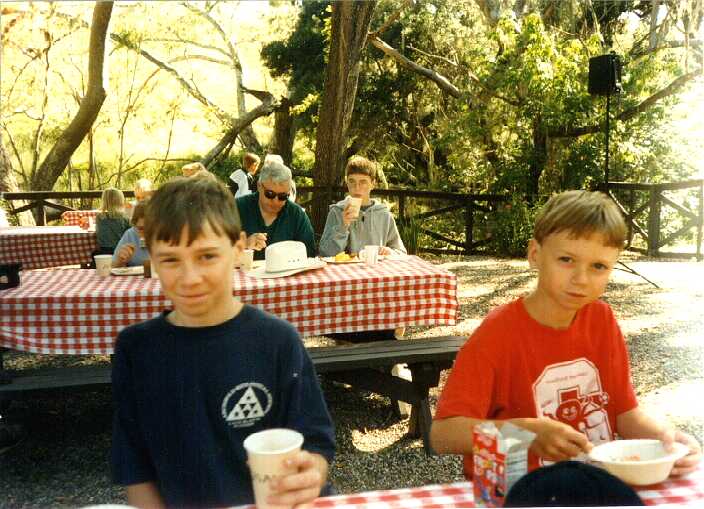 Evan (Left) and Nolan (Right) at the Adobe Breakfast
What is Alisal?
Alisal is a "dude" ranch.
Where is Alisal?
Alisal is near horses. I don't know where it is.
Good things to do at Alisal, in order:
Swim in the pool (please imagine picture here, scanner was left behind at home -- this won't happen next year)
Pool tables (please imagine excellent picture with color and Nolan winning against all players)
Sharing an "executive" cottage with Grandparents, Uncle and Aunt, Mom and Dad and brother (please imagine pictures.... do not ask how much this cost)
Fishing on the lake. Dad and I had a contest today to see who could catch the most fish. Together we caught 30. (Imagine picture of 30 big fish, up to 3 inches long)
Golf course. Kids under 4 might not like this golf course. Bring lots of balls. A lot of ditches.
Bad things at Alisal to avoid:
Please don't walk on the bridge at mid day in the hot sun with bare feet.
You can't drive the golf cart if you don't have a drivers license, if anyone is watching. But you can drive the boats on the lake without a license.
Don't throw your boat anchor into the lake unless you know it is tied to something.
Sun burn can be avoided by wearing a tee shirt or not going outside.
Advice for the dining room:
Everything is included in the room charge. Order all you want.
You can order from the regular menu or the adult's menu. Same applies to dessert.
Order something you know from the menu. But beware, because it might not be what you think.
The peanut butter and jelly sandwich ("pbj") is a good choice if nothing else looks good.
Ice cream should be ordered with sprinkles, M&Ms, snicker bits, and chocolate sauce.
Some of Nolan's Favorite Web Sites:
---
Return to Evan and Nolan Main Page