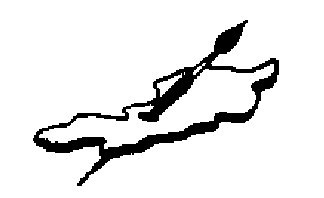 Artist from St Barths wins top prize at 2004 Arts Festival
A large number of persons were at Wallblake House on Friday evening December 3 to hear the names of the winners for this year's International Arts Festival and to see the 48 finalists in the competition. Judges this year were Garve Beckham and Suzanne Seitz and Beckham was present to announce the winners.
The winner was Jean-Pierre Ballagny from St Barths who won US$10,000. Although there were some twenty artists who were in Anguilla for the occasion he was not present.
Second prize went to Betty Barber of St Thomas (picture below) with her painting Caribbean Carnival and she was present to receive her prize of US$2,500.00. The painting was in bright colours with lots of people and cleverly included were flags from many of the countries of the Caribbean.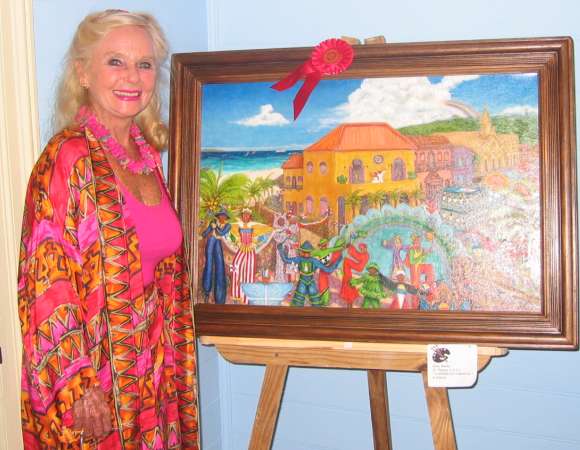 Persons attending on Friday were able to vote for the People's Choice that was a prize worth US$2,500.00. There was a tie for the winner and Lynne Bernbaum, well known artist who has lived in Anguilla for many years, was one of the winners. She shared the prize with Justyna Miklaseiviez, of Poland but who is also well known in Anguilla as she has exhibited several times at CuisinArt Resort and was the resident artist there a couple of years ago.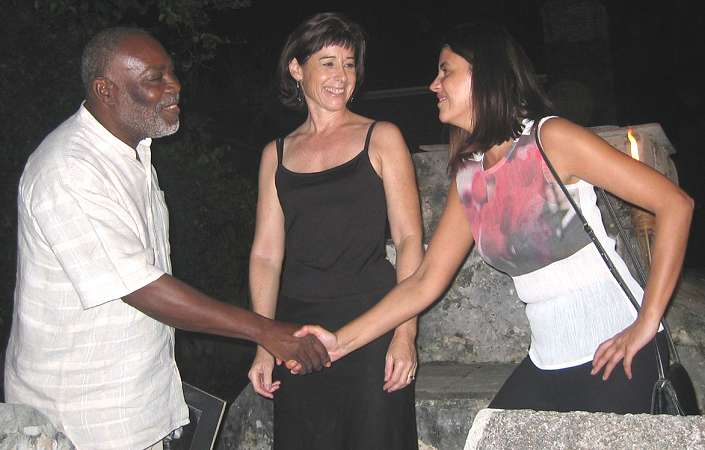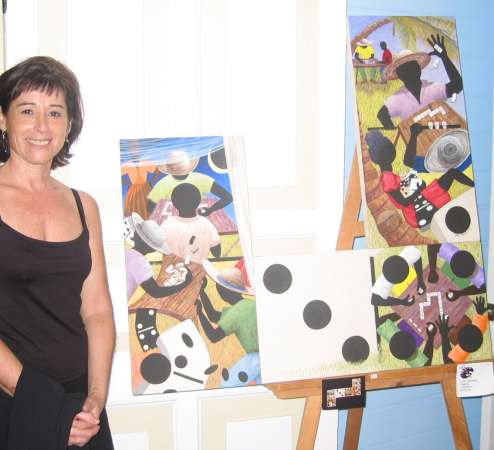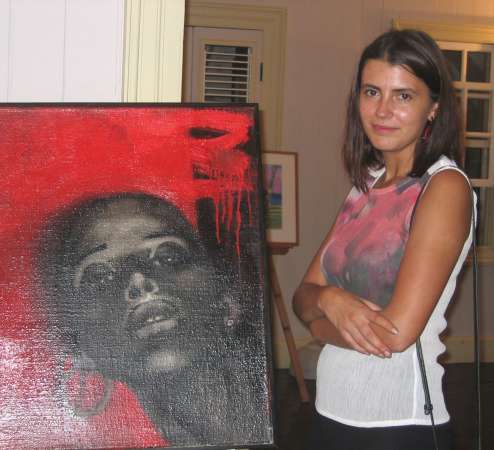 The International Arts Festival is a biennial event that is becoming popular worldwide. Participants sent slides for the first round and 48 paintings were chosen for the finals that were judged in Anguilla.
---
Art Festival and Competition

Your Invitation
To Participate in
The Fourth Biennial


December 1-8, 2004

Anguilla
British West Indies
---
Dear Artists,

As you are aware the 4th Annual Biannual Art Festival will be held from December 1 to 8, 2004. The steering committee of the festival would like to inform you of several activities scheduled to be part of this event.

Friday December 3rd Side Walk Show 10:00 am - 4:00 pm, on the grounds of the Post Office.
Saturday December 4th Opening Reception, announcement of winners and auction, 6:30 - 8:30 pm, at Historic Wallblake House.
Sunday December 5th Beach Walk Show, Noon - 5:00 pm, Jazz afternoon at Johnno's Beach Stop.


The committee also wishes to inform you that additional prints or small paintings can be brought to Anguilla, for sale at sidewalk shows and auction. As part of our appreciation for your Participation a farewell party will be arranged; this date and time will be forthcoming.

For special rate package accommodations contact host hotel Arawak Beach Inn at [email protected], or call 888 454 4422 ext. 110. The seven-day package is as follows, Ocean Front $450.00 per person, double occupancy and $675 single. extra nights $50.00 per person, double $90.00 single, this includes breakfast. Deluxe Ocean Front is $550.00 double, $975.00 single, extra nights $65.00 or $110.00

Paradise Cove at www.paradise.ai has rates for studio of $175.00 per night with king size bed, and a 2 bedroom with, (2 twin and one king 1 bed) at $270.00 per night. All rates have a 20% tax that is not included.

We look forward to your participation,

Yours truly,

Courtney Devonish
Chairman
Anguilla International Art Festival
---
New: Registration Form
The registration form for the Art Festival and Competition is now online, in Microsoft Word format.

Click Here to download the file to your computer.

Note: Registration form should be sent in with slides and registration fee.
---
The Competition
The competition will be held December 1-8, 2004 and is open to painters in all media. (Festivities, workshops, and sidewalk show also held during the week of competition)

Slides submitted for the competition will be selected by jury in August, 2004 and artist's slides selected will be notified. Selected paintings must arrive on Anguilla by November 1st, 2004.

Paintings must be framed and ready for hanging. Maximum framed size of paintings is restricted to 36 x 36 inches. Oversized paintings will be disqualified. Plexiglas, instead of glass, is recommended. Exposed glass/Plexiglas edges will not be accepted.
The Theme
Tropical Images
The Awards
There will be a total of US $15,000 awarded as follows:
| | |
| --- | --- |
| 1st Place | US $ 10,000 |
| 2nd Place | US 2,500 |
| 3rd Place | US 1,250 |
| People's Choice | US 1,250 |
Winner's of the 1st, 2nd, and 3rd place prizes will not be eligible for the People's Choice Award
In addition, up to 5 paintings may be selected for reproduction as official postage stamps of Anguilla.
How to Enter
Artists must complete and submit:
the enclosed registration form
a maximum of 3 slides
draft or money order in the amount of US $75.00, made out to THE ANGUILLA INTERNATIONAL ARTS FESTIVAL
A brief, one paragraph, biography with the registration form
Entries must be postmarked no later than July 1, 2004
---
Preparing your slides
Entries must be 35 mm slides of original work, conceived and created by the artist. Digital or computer generated artwork will NOT be considered. The slides will not be returned unless international return postage coupons are enclosed with the registration, to cover the cost of mailing.

Each submitted slide must include the following:

Front:
Title, size and medium (oil, pastel, acrylic, mixed, etc.)
Back:
Name, address, and telephone number
Preparing selected paintings
Two cards with the artist's name, the title of the work, the sales price, and the artist's address, telephone number, (fax and email where possible) must accompany each selected work. Attach one card to the back of the painting.
Shipping Information
Shipping and insurance of paintings to and from Anguilla are the responsibility of the participant. While in Anguilla, entries will be insured by the Anguilla International Arts Festival to a maximum of US$ 1,000 or the value of the work, whichever is less.
** Festival Regulations **
The winning painting will become the property of the Anguilla International Arts Festival
The 1st place winner will be offered airfare and accommodations to attend the competition, or at a later date.
All entries must be offered for sale in Anguilla for a period of 4 months. AIAF retains a commission of 35% on all sales
Artists must arrange for the return of unsold works before May 31, 2005.
Works unclaimed by June 1, 2005 will become the property of AIAF.
The AIAF retains the right to select a maximum of 6 paintings to be reproduced as Anguilla postage stamps.
NOTE: Selected artists are encouraged to attend the Festival and competition, although it is not required. Discounts on airfares, hotels and other amenities will be provided at a later date.
---
Contacts:
Anguilla International Arts Festival
P.O. Box 550
The Valley, Anguilla, British West Indies

Telephone: (264) 497-2949 fax: (264) 497-2735

Internet: http://www.artfestival.ai
E-mail: cperry@anguillanet.com
---
---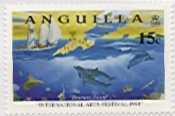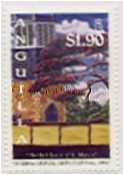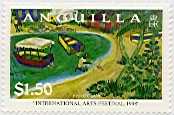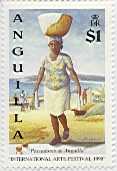 ---