Anguilla Tennis Academy
Progress Report 2002- Architectural drawings donted by Myron Goldfinger and Jeff Taylor and Associates
2003- Government donated six acres of land in Blowing Point and special concessions to aid in the construction of the project
2003-All Island Exports pledged building materials including, windows, doors, and plumbing to asist with the project
2003-ABC Supplies pledged 10 pallets of blocks towards construction
2003- KPMG pledged accounting services towards the construction phase of the project
2003- Law firms of Caribbean Juris Chambers-Anguilla, and Helton Erwin & Associates pledged legal representation and other services
2003- Tropical Shipping and Haskins LTD pledged shipping assistance from Miami and Puerto Rico for the construction phase of the project.
2003- National Bank of Anguilla pledged US$75,000 towards the construction of a tennis court
2003- Caribbean Commercial Bank pledged US$85,000 towards the construction of Center Court.
2003- Private donations in pledges from international friends exceeds US$100,000
2003- Superior Industrial Equipment pledge heave equipment assistance towards the construction phase of the project.
2003- Anguilla Social Security pledged US$75,000 towards the construction of a tennis court.
2003- Groundbreaking!
"Buy a brick" campaign has raised more than US$10,000 in cash and pledges to date.
We are gratified and excited by the breath of support that has allowed us to achieve more than half our goal at this stage of the project. We would like to thank all those who have contributed and would like to encourage others to participate and help make this project a reality.
If you would like to make a tax deductible donation, please contact Mr. Mitchelle Lake-Founder at anguilla70@aol.com Thank you.
You Can Help: Buy a Brick
Help build this facility for Anguilla's children. All donations are tax-deductible in the USA if desired. The opening fund drive will be for the purchase of bricks for $100 US each, with names of the donors inscribed. These bricks will be a walkway to facility. (Each brick can have up to 3 lines of text, with a maximum of 14 characters per line; characters include space, period, dash, etc.)
There are four ways to get a brick:
1. Buy a Brick Now With your Credit Card
If you would like to purchase a brick instantly with your credit card, and you don't need a USA tax receipt, you can use our secure on-line "brick" page. This uses SSL encryption to protect your credit card information.
2. In Anguilla, Buy a Brick in Person!
In Anguilla, make your cheque payable to the "Anguilla Tennis Academy Facility Fund" and drop it by the Anguilla Community Foundation office in the NBA Corporate building (tel 264.497.7209 or 497.2949 or PO Box 1097). Don't forget to mention the names to be inscribed on your bricks!
3. In the USA, Buy a Brick with a Check
In the USA, we are collecting donations through the Anguilla Progressive Assoc of NY. Make your cheque payable to "APANY/ACF-ATA fund" and mail to APANY, 579 Mineola Ave, Carle Place, NY 11514. This is a registered US charity and can provide a tax deductible receipt. Be sure to enclose your return address so that we can send you a US tax receipt.
4. To Inquire About Bricks!
To inquire about bricks and other, more substantial, sponsorship opportunities, use this web form or contact Mitch Lake at anguilla70@aol.com:

Radio Anguilla on 2003 Coaching Program:
Dec 10, 2003
The Anguilla Tennis Academy has launched its 2003 coaching program at the Ronald Webster's Park courts.
Permanent Secretary Social Services Mr. Foster Rogers who was present at the ceremony called on the youngsters to see the game as not only a recreation.
"So I want to encourage the Tennis Academy to try to get it across in the minds of Anguilla that sports is a viable way of making a living. You can see it on TV and even in Anguilla we have examples of this." Permanent Secretary Social Services Mr. Foster Rogers.
Tennis Coach Richard Landry highlighted some of the characteristics that the Academy would like to uphold.
"Respect, we know that respect for parents, children, each other goes a long way. Fair play, good sportsmanship. We dont want too many raquets being thrown over or into the fence. I think the most important thing for the children is the academic responsibility here. We all like to dream about being the next Serena Williams', John McEnroe's and all those people of the world, but I think we need to stick to the basics. Academic responsibility is going to be a part of this camp. Unfortunately for you, we will be checking your grades." Tennis Coach Richard Landry.
Mr. Foster Rogers faced off the coach for the first ball. Coaching sessions are being held weekday afternoons and Saturday mornings.
Radio Anguilla on the Anguilla Tennis Academy:
Dec 10, 2003
Anguilla Tennis Academy is dedicated to providing the highest quality tennis instruction Member of the Tennis Academy Mr. Brent Davis used the opportunity to share some the philosophy of the Anguilla Tennis Academy with the public.
He pointed out that the Anguilla Tennis Academy is dedicated to providing the highest quality tennis instruction to Anguillian, Caribbean and International youth in a competitive environment while encouraging exemplary sportsmanship.
He further noted that the Academy is committed to developing healthy minds and providing educational opportunities for children through the sport of tennis. It was founded under the principle of using tennis as a vehicle to reach and empower children and equip them with the skills and knowledge to become responsible citizens of their community."
According to Mr Davis the Academy will "help build valuable life skills for children, including work ethic, competitiveness, sportsmanship, and teamwork" and "will provide a nurturing environment where children will learn how to apply the principles of sacrifice, work, courage, and service towards building a successful life and becoming ambassadors of the sport tennis".
He called on parents to take advantage of such an opportunity and support the efforts of the Anguilla Tennis Academy.
Anguilla Tennis Academy takes first step to facility - By Brenda Carty (The Daily Herald)
On Tuesday July 22 the Government of Anguilla and the Anguilla Tennis Academy signed a memorandum of agreement for the leasing of six acres of land at Blowing Point to build a state of the art tennis facility. The Government has agreed to lease the land to the Academy founded and led by Mitchelle Lake, who has run a tennis camp here for the past seven years.
The ceremony drew a large cross-section of the Anguillian public, including the Deputy Governor Mark Capes and Mrs Capes, as well as Ministers Eric Reid and Victor Banks, Permanent Secretaries Marcel Fahie and Ken Banks, as well as the Second Nominated Member Claudel Romney (see picture below).
The signing ceremony took place on the basketball court on the Blowing Point Road. The many visiting coaches for this summer's tennis camp helped cheer on the project (see picture below). Children participating in this year's tennis camp also attended, with their parents.
The facility will comprise six lighted tennis courts, a stadium court with seating for one thousand and a building with showers, bathrooms, a conference room and pro shop, designed by Myron Goldfinger. Plans are to start construction in November 2003. In the meantime the Anguilla Tennis Academy is actively seeking funds from businesses, visitors, residents and friends interested in promoting tennis on the island. A buy a brick campaign is to be launched soon and will involve buying a brick for US$100.00 that will be inscribed with the purchaser's name and used to pave the entrance to the facility. Further details on purchasing the bricks is available at here.
Lake said that after completion the project will provide opportunities for young children through the sport of tennis while strengthening the sense of community, knowledge and health and at the same time promoting sport tourism. He said that there will be regular tennis lessons for children and adults, and coaches from the USA will be employed. He has already appointed a committee for the project and has included several honorary members who have contributed to the sport over the years. As well as the every day use of the courts there are plans for inter-regional and international competitions as well as local league matches and tournaments.
Our New Goal!
On December 27, 2002 Mitchelle Lake unveiled his proposal for the future Anguilla Tennis Academy, a state of the art facility. Designed by world-reknowned architect Myron Goldfinger, who donated his time and energy to help make this project a reality. With an estimated construction cost of $1,684,300, this breathtaking seven court Academy aims to make Anguilla the tennis powerhouse of the Caribbean and provide a year-round home for the hundreds of Anguillian children who have previously honed their tennis skills during the Academy's annual summer camp.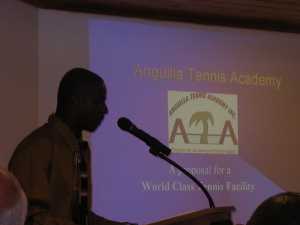 Mitch Lake presents his vision
At the launch ceremony, Mitch presented his vision of a tennis complex with unmatched facilities, a complex that can both act as a sports tourism magnet for tennis competitions, while also supplying the community, especially the young people, with lessons, competition, intensive training, and the opportunity to build their sportsmanship and confidence.
New Tennis Facility!
The Government of Anguilla pledged full cooperation with the project, which is currently destined for 6 acres in the Blowing Point area. Many local businesses have offered to donate resources to help with the project. The community has volunteered time and resources to furthering the project.
ATA is a non-profit organization and all proceeds will be reinvested into children's programs and future development of the academy.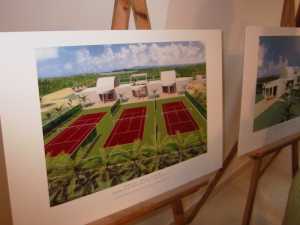 World-class facility with 7 courts
Fully-equipped with 7 courts built to international competition standard, pro shop, men's locker room, women's locker room, lounge, training/meeting room, even parking! Each court has a covered cabana where visitors can observe the play.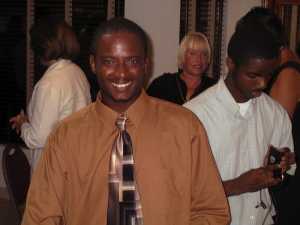 Mitchelle Lake, founder, Anguilla Tennis Academy
Mitch founded the Academy 7 years ago while he was away at college in the USA, returning each summer to organize a summer tennis camp that has grown to 200 children, visiting coaches from the USA and the Caribbean, and, in 2002, visiting young players from the USA and the neighboring islands.
Highlighting the complex, will be the "center court" with seating for 1000 spectators. A facility unique in the Carribbean, to attract Caribbean tennis competitions, Pro-am tournaments, Davis Cup matches, exhibition matches, Men's Senior Pro compeitions, and more.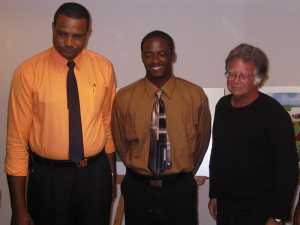 Michael Fleming, Mitch Lake and Myron Goldfinger
Mitch Lake and Myron Goldfinger created this proposal and Michael Fleming heads a board of 15 prominent people who will oversee the project, including Brent Davis, Brenda Carty, Joan Hill, Sheila Haskins, Mitchelle Lake, Myron Goldfinger, Conrad Fleming, Mildrid Hodge, Leslie Richardson, Keesha Fleming, Alfred Thompson, Cardigan Connor, Stanley Reid.
Together We Can Make This Happen
Tennis Academy Bricks
Goal 5000 Bricks (Last updated Oct, 2003)
The Landrys: Rick, Livia and Sebastian.
RICK, LIVIA & SEBASTIAN Hannah Valdez, Chicago, IL. Gardner-Webb University '99
John & Susan Sias, Married May 8, 1999, Shoal Bay West
Sue and Bob Fernandez, Blue Bell, Pennsylvania.
Robert & Suzan Fine
Andie V. Hodge
Mr. George Sarkus
Breeze
Mark & Sally Baumwell, Monte Sereno, California.
Vince Pisano and Lissa Roth, Norwalk, CT.
Mark & Wanda Plummer, Greensboro, North Carolina.
Rebecca & Will Arvanites, Providence, Rhode Island.
Joan Hill, The Valley, Anguilla.
Javiette S.S. Richardson, Willine Richardson, Ezra A. Richardson, Thomas F. Richardson, Hulda E. Richardson, The Valley, Anguilla.
Janelle Crawford Roaches Hill, Anguilla.
Valdez Johnson, Swing High, Anguilla.
Jean and Irvin Phillips, West Indies Concrete, Shoal Bay and Deep Waters, Anguilla.
Daniel E. Pavon, Old Ta, Anguilla.
Aquarobic Limited, Old Ta, Anguilla.
Aquarobic International, Front Royal, Virginia.
The Anderson Family, Lake Forest, Illinois.
Jerron Fleming, Old Ta, Anguilla.
Preston. B. Bryan, South Hill, Anguilla.
Erlyn A.Bryan, South Hill, Anguilla.
Jerriece Fleming, Old Ta, Anguilla.
Jerrwyn Fleming, Old Ta, Anguilla.
Jewelle Fleming, Old Ta, Anguilla.
Pauleta Gumbs, Anguilla, The Valley, Anguilla.
Dr. Alfred and Sue Ellen Filar; Glen Arm,Maryland.
Lilianna Claire Filar - Glen Arm, Maryland.
Omar "Oms" Davis, OMS Tennis Academy, St. Lucia.
Bill Riddle Family (Tennis Unlimited Promotions) Antioch, Tenn.
Girish Amar, Manassas, Virginia.
Mr. and Mrs. Michael Friedman.
Robert and Meredith Cox, Fayetteville, Arkansas
Caleigh and Lynden Steele, Norwalk, CT
Fayme M. Melby and Herbert I. Melby, The Valley
Steven Seligman and KK Meyer, Bloomfield, CT
Calvin Lake, Janet Lake, Molissa Lake, Marva Lake, Marlon Lake, The Valley
Michael Fleming and family.
Mitchelle Lake
The Walsh Family: Max, Corie, Marcia and Jim. "Thank you Mitch"
Green Family: Bob, Mary Ann, Bobo, Flash and Guiseppe, www.news.ai, Tina Crawford, Ronda Verbeek, Evadney James.
Your purchase of a brick will serve as a daily reminder to the children of those who helped pave the way for their future development.
Bottom Line: The Anguilla Tennis Academy will provide opportunities for young children through the sport of tennis, while strengthening the sense of community, knowledge, health, and at the same time, promoting sports tourism both internationally and on the island.
---