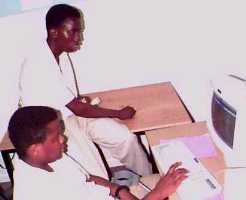 Anguilla, Leeward Islands, Caribbean
Anguilla Library Computer Club Standard Club Directory Structure Every computer should be configured with the following standard items, if possible.

Path=c:\dos;c:\windows\command
Install clubmenu.bat in c:\dos
Last line of autoexec.bat should be clubmenu.bat
md temp
md clubmenu

Install menu_lcc.zip here. See below for instructions.
md adv, for Adventure
md tme, for Typing Made Easy
md aseasy, for Spreadsheet
md googol, for Googol Math Games
md gwbasic, for Basic04.zip
md sorting, for Sorting.zip

md lcc

thankout.txt, thankout.doc, thankyou.txt
bagman10.zip
menu210.zip
basic*.bas
All files read only, attrib +r *

Software Tools Most of our computers donated to the club are old, but serviceable. We only have one Pentium with sound card and CD-ROM, so we use a lot of shareware DOS programs that will run on as many of our club computers as possible, even the oldest 8086, even monochrome laptops! Program Installation Tips Complete DOS Lesson #2 about ZIP Files first.

DOS looks for a BAT file first, then EXE or COM. If you want to be certain you are running the EXE file, type bagman.exe, not just bagman.
There may be a CONFIG.EXE to configure graphics or sound options.
There may be an INSTALL.EXE to copy the files to a final destination directory.
If you see SETUP.EXE or a DLL, this is probably a Windows program, not DOS (same for OCX or VBX).
Compatibility. Not all programs will run on all computers. Googol Math requires at least CGA (old color graphics), while Word Rescue requires EGA or VGA grahics. Some will require a 286 or 386 CPU.
The MS-DOS prompt under Windows is okay for installs, but Windows is still around. You may have to shutdown Windows to run the program.
PKUNZIP must be on your "PATH", which is a list of directories that DOS searches for programs. Type PATH to see your current path: PATH=C:\DOS;C:\WINDOWS\COMMAND.
Self Extracting Archives are zip files packaged as EXE files. When you run them, they explode into many files automatically in the current directory.
Commerical Products come on floppies or CD-ROMs. Look for an INSTALL program on the media and run it (SETUP for Windows products). This will copy the product to your hard drive, building directories, configuring sound, etc.

Running DOS Games Under Windows Most DOS games that use VGA graphics or sound will not run if Windows 3.1 is active.
However, many will run under Windows 95. Install them normally. Then use the Windows Explorer to create a New Shortcut to the .EXE file in your c:\windows\Start Menu\Programs\ directory. Now click the Right mouse button on the shortcut and select Properties. In the Program attributes, select Run Maximized and Close on Exit. For Fun-2-3 we had to go into the Advanced program attributes and disable Suggest MS-DOS mode as required; the authors at Devasoft suggest setting Prevent MS-DOS program from detecting Windows. Now go to the Screen attributes tab and select Full Window.
We haven't tried Windows NT yet, since the club doesn't have a WinNT system.
---
Return the the Club's Lesson/Software site.