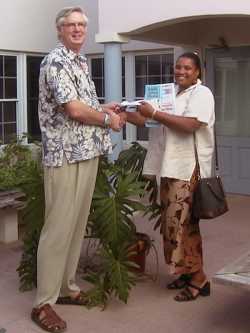 Mr. Bob Green, Club Treasurer, presents a cheque for US$416.25 to Ms. Linda Lake, coordinator of the 2001 Cultural Education Festival. This represents the cash balance in the club's bank account, representing the funds left over from fees after last summer's computer training programs for adults and children.
The Anguilla Library Club has declared victory in its goal of making Anguilla aware of computers and comfortable with them, and has decided to shut down. Computer education is now well established in the schools and PCs are common at home. Other grass-roots organizations are springing up in the villages to continue community computer education. You can still email info@computerclub..ai if you wish to assist with these efforts, and we will put you in touch with the volunteers.
Professor Gaetano Di Palo, who taught our classes for the last several years and is remembered most fondly by his students, hopes to return to Anguilla again for summer 2001 and teach another course using the computer lab that the club has donated to the high school.
The club founders want to say how proud they are of the many young people who learned to use a computer at the club. Many have gone on to higher education, jobs using computers, and to show other people what they have learned (including their elders!).
Club Donates Lab to School
The Computer Club has donated all its equipment, which includes fourteen computers and an air conditioner to the Albena Lake Hodge Comprehensive School. Many thanks to the school for providing a home for this computer lab and allowing us to use it for our summer bootcamp.
Camp 99 Web Pages

August 1999. Web site Instructor Randy Hannan (pictured above) from Michigan visited Anguilla for the month at the invitation of the Government training establishment and took part in the club's summer boot camp.

Randy took over a group of young people and adults and taught them to create web pages. To review nine of the student web pages, click here.

You can email Randy at rsh@acd.net
Web Page Class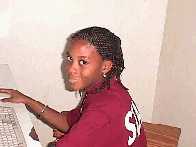 On Dec 17 1998, the club completed its first "create your own web page" course. Click Here for student web pages and class photos.
Hardware Class
The club recently ran a 12-hour hands-on class in computer hardware and troubleshooting.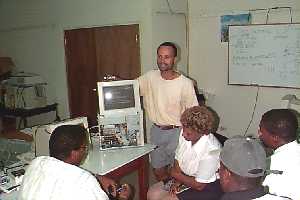 The course was taught by Griffin Webster of and attended by twelve aspiring computer technicians.

Use freemail.ai to exchange messages with the world. What's the catch? No large attached files, email delivered several times per day instead of instantly, and number of messages per month is limited.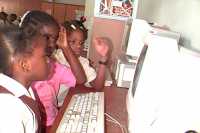 Summer 98 Success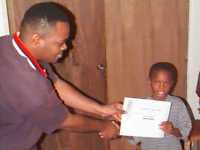 Leroy Hill, club president, presented Certificates of Achievement to the children who spent their summer break working so hard to master computers. Boot Camp was run by Professor Gaetano Di Palo of Naples Italy and student Marsha Duncan from Anguilla.
Bootcamp 2000
Summer computer camp ran from July 10th to August 24th, 2000 (with a break for Carnival). Once again Italian professor Gaetano Di Palo ran the computer workshops. Interactive computer lessons for kids, Educational Computer games, Fun prizes, Camp T-shirts, Introductory MS Word and Excel Classes, and the chance to go home with a computer system.

Two programs on Monday-Thursday:
[9am-12pm] Kindergarten – Primary children.
[5pm-7pm] Adults and Teens.

Bootcamp Graduation 2000
Each student who completed the summer 2000 computer bootcamp received a certificate of accomplishment, plus a floppy disk and CD with educational software. 6 year-old Senegal Carty was winner of the computer system awarded to the best overall student.

We have photos of the 18 children and 24 adults particpating in the summer 2000 bootcamp:
Click Here.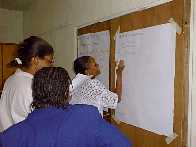 Advanced MS Word
On March 23-29, 1999 the club hosted an advanced class in MS Word techniques, with a certified instructor from Canada, Rose Anne Leonard: Class picture album and a news article.
Women's Class for Beginners

The Ministry of Women's Affairs, the Anguilla Beautification Club and the Computer Club joined with Professer Di Palo (see below) to offer an introduction to computers, August 10-26, 1999. The organizers were Iris Lewis, Lana Ho-Young and Bob Green. There were two 90-minute sessions per evening with a total of 18 women participating. Each student received a textbook, Grown-Ups Guide to Computing, written in non-technical language.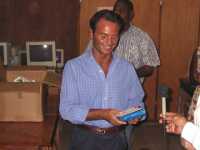 The computer club does it again. Professor Gaetano DiPalo of Italy returned to Anguilla in July 1999 to operate another summer program in computer skills. He was assisted by another volunteer, Randy Hannan, and we had local helpers too who are back in Anguilla on summer college break: Dawnette Bryan and Rochelle Carty.
This year we offered a session for children age 11 and under (US$60), and another session for adults and teens (anyone 12 or older can register, cost $120). At the completion of the summer, each participant received a certificate of achievement and a Boot Camp T-shirt.
For a picture album of the children, click here and here. For the adults in the bootcamp program and the PC Beginner's Course, click here. You can email Professor DiPalo at gdipalo@hotmail.com
Big Donation
Recently we had started using software on CDs such as Toon Talk, Sim Tunes, Lego Island, Mavis Beacon Teaches Typing, Encarta, Reading Roller Coaster, and more. ZZT is an interesting game which will run on any PC, even old mono systems with no grahpics. And it includes an object oriented game programming language. Click here for 250+ ZZT games written by teens.
Software Tools
Important: Windows and children do not really mix. To avoid constant Windows re-installs, we use StormWindows to lock down the Windows registry and other dangerous resources. Without Storm Windows, new Win95 systems become unusable in a few weeks.
Club Alumni
Several graduates of the club have done interesting things. Miguel Connor works for PublicData.com.ai and Danny Laud works in Customs has started a business doing web pages.
Primary School Project
Thanks to Donors
Pix of First VB Class
www.computerclub.ai updated: 2001/02/12

Web site by news.ai