Anguilla Tennis Academy
Anguilla Tennis Academy director Jason Allen appointed as Tennis Director at Cuisinart Resort and Spa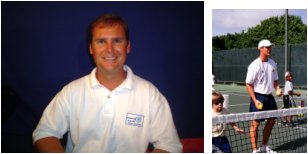 The Anguilla Tennis Academy, a non profit organization, recently partnered with Cuisinart Resort and Spa. The ATA is now responsible for providing a tennis director to oversee the daily operations at the three courts. This is certainly an exciting new venture for the ATA as it will be a source of revenue which will help sustain the after school program throughout the year. Mitchelle Lake, president of the ATA, has chosen Jason Allen, director of the ATA, to fill this position as the tennis director at Cuisinart. Jason began work when the hotel opened on October 31 and brings a great deal of experience to the tennis program at Cuisinart. With 13 years experience in the tennis teaching industry and 16 years experience of intense competition, he is certainly the best person for the position. He ended his career at number one singles and doubles for Gardner-Webb University while studying on an athletic scholarship and upon graduation, played the Florida open circuit until he began graduate school. He is also a certified USPTR (United States Professional Tennis Registry) professional and has coached many players to receive college scholarships and obtain state and national rankings. Jason commented, "I am excited to be at Cuisinart Resort and Spa. My role there will help improve the conditions for the children currently enrolled in the after school program. I also hope to upgrade Cuisinart's program and make it the preferred tennis destination on the island and in the region."
Denny Derrick, a former student of the ATA program, will be working as Jason's assistant pro. This experience will be invaluable for him as he will receive training on how the tennis industry functions as well as have the opportunity to play more tennis. Denny is currently in training and hopes to receive a tennis scholarship to study in the United States. Throughout the year, the ATA will expose some of its top juniors to the tennis industry so that they will be able to set goals and have more options to choose from in terms of choosing a career path. When asked about this exciting new venture for the ATA, Mr. Lake commented, "this opportunity will allow us to diversify our program and enable us to garner more resources as we interact with other tennis enthusiasts staying at a world-class resort such as Cuisinart I trust that other resorts in Anguilla will also seek to partner with the ATA whereby we can provide jobs and opportunities for children graduating from the program."
Stephane Zaharia, the new general manager of Cuisinart also commented, "we are also excited about this venture with the ATA and we hope to create a better tennis program with this partnership. It also gives us the opportunity to assist financially with the ATA and the development of the children here in Anguilla."