1997 Definitive Stamps
Fruits of Anguilla - Part 3
Coco-Plum - Chrysobalamis Icaco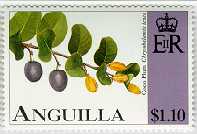 The natural habitat of the Coco-plum is the sandy soil of the seaside, though it is known to thrive further inland. The plant is shrub-like in nature and its branches assume a vine-like shape. The plum ripes to a purple or whitish pink colour with a wrinkled appearance.
The Coco-Plum is virtually juiceless and has a pulp-like texture.

Pope - Melocactuw Intortus
A prominent member of the Cactus family, the "Pope Head", which grows wild, requires little soil or water. This plant can eke out an existence in dire arid conditions.
Therefore it is especially suited to the climactic conditions of Anguilla. The "Pope", a wedge-like fruit which grows on the top, cottonish section of the plant, is eaten mainly by birds and is a pleasant treat to children roaming through the shrubbery.

Paw-Paw - Carica Papaya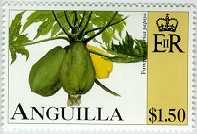 The Paw-Paw has been a favorite of Anguillians for generations. The plant, which is found growing mostly domesticated, may be found in any back yard garden.
The Paw-Paw makes a succulent dessert when eaten ripe or it can be cooked in soups or stews in its green form. The steamed fruit also makes a delectable side dish.
The shape of the fruit may range from pear like to an elongated oval. Some varieties of the Paw-Paw tree can attain a maximum height of 15-20ft.

Sugar Apple - Annona Reticulata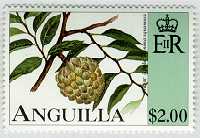 Appropriately named for its high suggar content, the Sugar Apple is a favorite of the islanders. The trees are grown domestically but also appear frequently in the "bush" - among the shrubbery.
The generally round fruit is divided into hexagon-shaped segments which widen as the fruit develops.
The Apples are often harvested and ripened indoors to prevent ravages by birds and rodents. The creamy nectar and pulp are eaten and the brownish-black seeds are usually dispersed to ensure the propogation of the Sugar Apple.

Fruits of Anguilla- Part 4
Back to "Stamps of Anguilla"