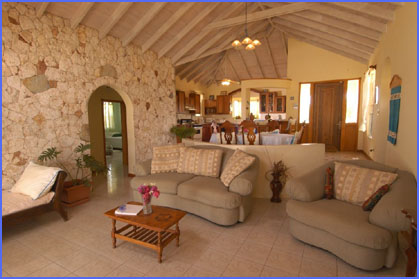 Splash! has a pleasant open design and is decorated in colourful Caribbean style. The roomy kitchen is well-appointed with hand-made mahogany cabinets which exude a warm feel. It is equipped with the modern conveniences including an oven/stove, fridge, dishwasher, microwave and coffee maker.

The kitchen flows into the dining area which overlooks the sunken living room and pool deck, with St Martin lying beyond. The hand-carved stone wall and detailed wood trimmings add a special touch to the living area.


Click button for panorama view of Livingroom
Splash! has three cheerful bedrooms each with a unique tropical ambience. The master suite and the pool deck bedroom are air conditioned and have ceiling fans. A mahogany-faced stairway leads up to the private master suite with its mini patio and spacious bathroom. The guest bedroom has a ceiling fan.



Click button for panorama view of master bedroom