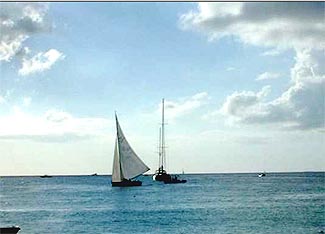 Our Guests Say…

Lee & Donna L., PA.
Splash has been a wonderful home to us for the past week. You have created a beautiful, serene and lovely villa with every last detail in place. Your generosity, kindness and thoughtfulness have been overwhelming and your willingness to provide suggestions and answer our curious questions has been greatly appreciated."
Dennis & Shirlee A., IL.
We have enjoyed Splash. Your villa is so comfortable and the sunset from the patio overlooking the Caribbean is idyllic! You both have been so kind and thoughtful, and we appreciate that. I'm sure Splash! will be a repeat for many who stay here.

Susan & John M., Ontario
"Ian and Janine you have made a beautiful home for us here at Splash and we appreciate all your help and friendship. We will of course be back next year."
Roger & Alicia K., OH
This is our 4th time to visit Anguilla - and our most enjoyable. Ian and Janine truly understand the meaning of customer satisfaction. They could not have done enough for us. Although we thoroughly enjoy the Anguilla beaches, we chose to just stay at Splash a couple of days and enjoy its comforts and beauty…
it is a home away from home. Mavis and Maureen keep it in tip-top shape. We'll look forward to our return next year."
Anne & Bob, B., OH
Mavis and Maureen, the housekeepers, are a delight and we always spend some time chatting when They come to the villa, as well as running into them other places on the island! One of the things we enjoyed most about Splash is that all the service you could want is there, but it's non-intrusive."