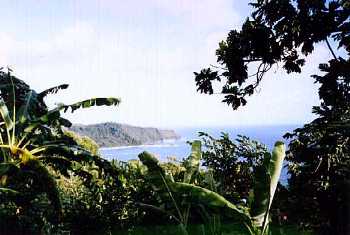 Our guest house is near the village of Atkinson on the Atlantic side of Dominica. A quiet spot of lush vegetation, rivers with swimming holes, and friendly people. A 10 minute walk takes you to the Carib Territory, last home of the Carib Indians, or 20 minutes and you reach a beach where you have a choice of fresh or salt water.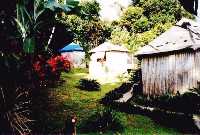 We have 5 rustic bamboo cottages set in carefully groomed and landscaped grounds, with shared bath facilities and hot showers.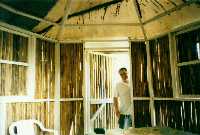 Prices are US$24 for a couple in the high season, plus 5% tax and 10% service.

If you need more information on Dominica, follow the links at Yahoo.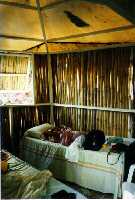 Recent visitors, Gordon and Laurie McDonald of Gabriola Island, BC, Canada, had this to say about Olive's:
"A wonderful place to stay. Great people. Incredible parrots, flowers, trees, birds, rivers - unbelievable views of the ocean."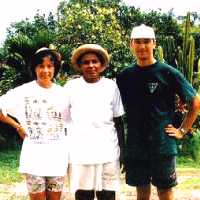 "Olive, pictured here with another pair of happy visitors, prepares traditional native creole meals - delicious, filling, and with fresh squeezed juices (guava, grapefruit, etc.) and home-made coffee (they pick, roast and grind their own coffee beans). Excellent food at reasonable prices. Forget your worries - Olive will look after you."
Hint: you may click any picture to enlarge it.