!This page was created with HTML Express>
Matty Boo
---
---
Hey! Welcome to Matty's crib.
My real name is Marissa Rey, but I am better known as 'Matty' to most of my closet friends and family. I was born in St Thomas, but spent all my life growing up in Anguilla. Thus so, I do consider myself an Anguillian.

Like most sixteen year olds, I am crazy over good dance hall and reggae music and I definetly enjoy a good party with a lot of people dancing and getting on BAD!! Look, if liming and partying is your thing well come on baby I'm your SWING!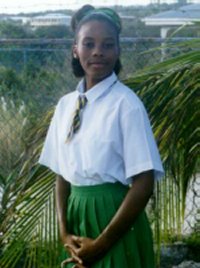 This is a picture of Indah and myself at our web page making class.
Mucho gracias to "Danny and Bob for the great lessons."
Yeh! Right now the picture which you see is one when I was preparing for a school graduation as an usher. Everything that I am wearing is part of my school uniform except for the necktie. Yeh...yeh neat huh?! Trust me I don't always look this neat in uniform.
Most of time I go for the simple,down to earth, ragga muffin sort of look. But to suit the occassion I guarantee your satisfaction. Yes, I know I've mentioned liming, partying and basically having fun but that's not all there is to my life. I am interested in graduating from high school and to hopefully become a CPA.

This is a picture of Indah and myself at our Web page making classes. "Mucho gracias to 'Danny and Mr Green' for the excellent classes."

Yo! I just wanna HAIL UP MY homegirls like

"LULU", girl wah yuh saying?

Girl like Remah, "Yuh Large"

Jado,"When LAST?"

Tammy, "Wah yuh saying?"

Indah"I-saw-Jah"

YEH, VYDIA I AINT FORGET YUH!!!!

I AINT FORGET YUH!

---

---

This Web Page was created on 12/17/98