Click for MIDI Steel Drum Music
The Link Ferries, www.link.ai
Ferry to St. Martin, and More!
Link Cat Ferry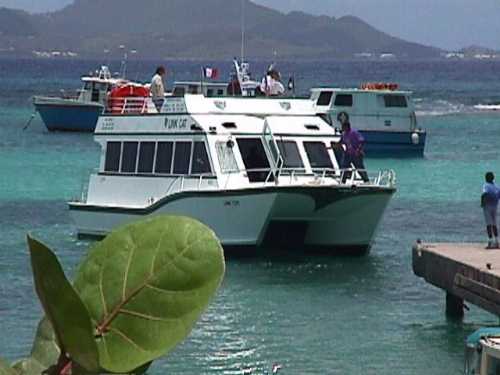 Our New Boat.
This is the Link Cat, a 48' by 17' aluminium catamarran with diesel engines, licensed for 90 passengers, and built in Naples Florida in 1998. It went into service on April 21st 1998 doing three round trips daily between Anguilla and French St Martin. The Link Cat has a roomy lounge that even a tall person can stand in, plus bar and bathroom. And there is a large sundeck on top too.The Link Cat departs Blowing Point Anguilla for Marigot, St. Martin every day at 8:40am, 12:40, and 5:30pm. It departs St Martin at 11:20am, 2:20pm and 6:00pm. The cost of this trip is US$10 per person one way. (ask about round trip prices).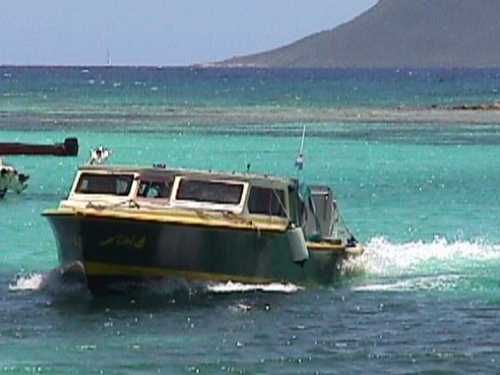 The Original, The Link
Our original Link ferry hasn't been retired. The smaller Link is a 33' by 10' monohull design, licensed to carry 27 passengers and powered by dual outboards.
New
Picture Galley
Dozens of photos
See the new Link Cat in operation, the sun deck, Marigot harbour, what to do in Marigot, the trip from St. Martin to Anguilla, the original Link ferry, and the captain of the Link.

Charters
We also do private charters to and from the neighbouring islands and offshore quays.

The quays include:
Sombrero
Dog Island
Prickley Pear Quays
Sandy Island
Scilly Cay
Scrub Island
Tante Marie
The Islands include:
St Martin. (french /Dutch
St Barths
Saba
Statia
St Kitts & Nevis.
Charters start at US$250.00
Fare Summary
Our fare structure is as follows:
Anguilla to St Martin US$10.00
Anguilla to Juliana US$15.00
Juliana to Anguilla US$20,00
Charters to Marigot and Juliana US$285.00
Charters to St Barths US$750.00
Other charters negotiable.
Note: Persons making reservations for charters are entitled to 10% commission.
The following information is required for charters or pick ups at Juliana Airport:
Name of passenger(s)
Number in party
Airline flight and flight number
ETA St Martin
Note: We can arrange transfer of any number of persons by accessing other compatible ferries.
Captain/Owner
The Captain /Owner of the Link Ferries, Mr. Franklyn Connor J.P O.B.E. is a retired public servant who has a bachelors degree in accounting and who has served the Anguillian government in the capacity of Teacher, Financial Secretary, director of Finance, Speaker of the House, Deputy Governor & Governor. It was Mr Connor's love of the sea that led him to start the Link Ferry service in 1992 when he retired from public service.
Contact the Link Ferries:
www.link.ai
Tel# 264-497-2231/3290
Fax: 264-497-3290
Email:

[email protected]

For more information on Anguilla, read the Anguilla Local News.

More on Anguilla ferries

Web site by news.ai