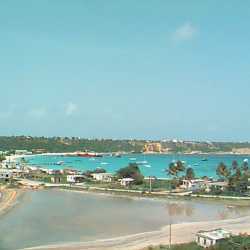 Some people think of Anguilla as a hideaway for the rich and famous, but you don't have to be rich to visit Anguilla and visitors miss a lot if they don't get out and explore Anguilla's local life. Those who have been here know that Anguilla gives a gracious, simple, and polite welcome to everyone.

And La Palma is the perfect place to learn about Anguilla. Right on the beach in Sandy Ground village and within reach of anyone's budget at $65+ per night.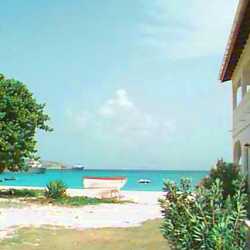 Upstairs at La Palma are 3 small rooms with kitchenette, private bath, and ceiling fans. There is a telephone on site, Cable TV in the rooms, and maid service is provided. Babysitting can be arranged when needed.
Jump out the door of your room at La Palma and you can swim in the warm, clear waters of Road Bay, take a catamaran out to Prickly Pear Cays, or even go scuba diving.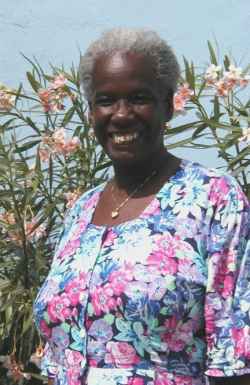 Your hostest Marie Richardson, pictured right, also has available a stand-alone cottage just next door to the apartments, La Palma Cottage. You can rent 2 bed/1 bath section with living area/kitchen, a 1 bed/1 bath section with living area/kitchen or the whole house with 3 bed/2 bath with living area/kitchen.

See the 3-Bedroom La Palma Cottage.

Hint: you may click this picture, or any picture on this web site, and it will be enlarged.