Coccoloba Resort Reopened
Barnes Bay, Anguilla, British West Indies
Photographs Taken August 7, 1997
During a break from the August Thursday Boat Races on Meads Bay, a side trip was made to the refurbished and reopened Coccoloba Resort which is on neighboring Barnes Bay. The resort had closed in May for further renovations and announced a reopening for August 1st, 1997.

The people working at the front desk said that the resort was definitely open and was being operated by Valtur as an all-inclusive package destination from Italy. This seemed confirmed by the Daily Timetable sign which was in Italian and the Italian newspapers for sale in the gift shop. Inquiries can be made in New Jersey at 201-798-1755, 888-4-VALTUR, email [email protected] and the local number in Anguilla is 809-497-8178.

Travel agent Kathy Smith reports: I had a couple of people interested in Coccoloba and called our local tour operator--GoGo Tours--and they are selling packages under the new Valtur name, so I guess they are taking people from the U.S. too.
Lobby had been redone in white and a nice tropical green shade.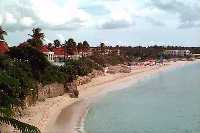 The bungalows stretch along the cliff overlooking Barnes Bay beach.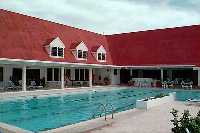 The huge main building contains the lobby, gift shop, a new mini-theatre, bar, and dining area. Adjoining it is an olympic pool.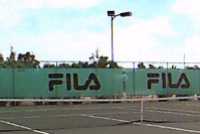 The tennis courts.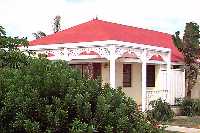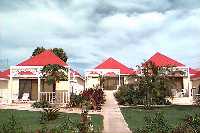 The bungalows have been redone in yellow with red roofs and gingerbread shade awnings in front. The grounds have had extensive addition of plants.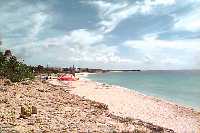 About halfway down the row of bungalows is a short fight of stairs down to the beach. Looking left you see west along Barnes Bay: the hotels sailboats, umbrellas and lounge chairs, then Mangos Restaurant, a couple of villas. There are no other hotels on this beach.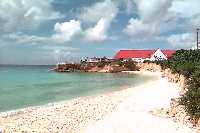 If you turn right, you see back to the main buildings of Coccoloba.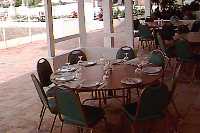 Back in the main building, the dining room was set up for buffet supper.
For more information on Anguilla, read the Anguilla Local News.