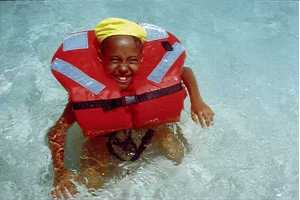 Be Aware Summer Camp 2001
CAMP BE AWARE has begun its pre-camp preparations for its third annual environmental summer day camp. All 42 campers have been chosen from the seven Primary Schools.

Each camper was a participant in their respective BE AWARE Environmental Clubs. They are all aware of the importance of a healthy environment in their local community as well as in the greater Anguillian community.

Two meetings were held in May for the campers and their parents. Many issues were discussed, such as, the rules, fees, activities, insurance, t-shirts, menus, bus schedules, and the times and location of the camp. All campers attended one of the meetings. Questions were asked and answered. Everyone left with a feeling of anticipation. Some parents asked if they could join and everybody laughed when the kids screamed, "No!".




REMEMBER, BUY THOSE RAFFLE TICKETS.
Two round trip tickets from Anguilla to San Juan. Keep an eye out for campers selling raffle tickets for US $5.00. If you don't run into any campers, please, call 497-2369, and tickets will be driven to your door. The money raised by the sale of these tickets pays for a good portion of the camp's expenses.


Along with the campers, guest campers and their parents also attended the meetings. They are twenty children who participated in one of the two previous camps. They have been invited back to share their interpretation of Anguilla's varied environment by painting murals on two walls of the Road Primary School. Permission has been granted by Mrs. Josephine Hodge, the principal of the School.

These artists have been meeting once a week with Teacher Shelagh and artist, Lydia Semeria at the Resource Center preparing their drawings. They will actually be transferring their ideas onto the walls by the use of grids prepared by Lynne Bernbaum and Dian Samuel. These two professional artists will be donating their time to assist the children during the actual painting sessions.

Campers will be visiting many sites including: The Pumphouse and Salt Pond, CapJuluca Nature Trail, Big Spring National Park, The Bush by Horseback, Prickly Pear, The Ketouche Caves, ANGLEC, Corito Landfill, and will observe the marine life through the eyes of Junior's Glass Bottom Boat. They will also be planting oleanders at the Wallblake House and will be cleaning up the Island Harbour Beach.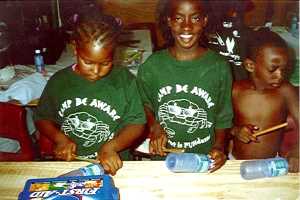 As in the past, many community businesses have stepped forward to sponsor CAMP BE AWARE. For the third consecutive year The Social Security Board, All Island Cable Television Service Anguilla Ltd., The Chief Minister's Office, and The Department of Education have supported us in grand fashion.
Sponsoring us for the second year will be Cable and Wireless Ltd. and American Eagle. American Eagle is allowing us to raffle two round trip tickets from Anguilla to San Juan. The tickets have again been sponsored by Anguilla Printers. This year we have a second prize of a Trek Mountain Bike donated by Flambayo.
We have four new sponsors, in addition to Flambayo. The Anguilla Community Foundation and Apex Auto Supplies have made generous monetary contributions. Caracasbaai Grocery and Store is donating all of the paint and painting supplies for the murals and Fair Play Management Services Ltd. has allowed us to insure our campers at a reasonable price.
CuisinArt has offered us the services of their pool maintenance engineer, Island Transport has donated water to the camp, Shoal Bay Scuba and Junior's Glass Bottom Boat have donated their time and boats to take us to Prickly Pear, El Rancho del Blues has given us a considerable discount on our horseback ride, and Tranquility Bus has been on time and very helpful.
All of the following institutions have fed us well from the beginning. They are Fat Cat Gourmet, Gee Wee's Bakery, Mary's Bakery and La Sirena Hotel. Amy's Bakery has joined them this year. Ashley and Sons continue their daily snacks of oranges and plenty of water.
---