Anguilla Tennis Academy
Robert Cox
Robert Cox is in his 16th season as the head coach of the University of Arkansas tennis program. The 1978 Arkansas graduate is coming off back-to-back NCAA regional final seasons and has the Razorbacks positioned for another run in the toughest conference in the country and looking for a seventh trip to the NCAA Tournament in 10 years. One of the highlights of last year's 15-10 finish was the 5-2 win at Texas-San Antonio, gaining Cox his 300th career victory.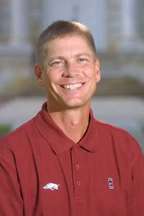 With a 198-167 (.542) record at UA, he is just two wins away from his 200th victory at Arkansas and 20 wins from tying the all time record for wins at Arkansas. Arkansas has posted double-digit victories in 13 of Cox's 15 seasons, including six seasons with at least 15 victories. The Razorbacks have been ranked in the nation's top 30 every season from 1980 through 2002 with the exception of one season (2000). UA finished with a No. 25 national ranking in 2001 and a No. 24 ranking in 2002.
Taking the reigns of the UA program in 1988, Cox turned around a team that had gone 9-16 the year before and won the Southwest Conference championship with an 18-6 record. He was the 1988 Intercollegiate Tennis Association Region VI Coach of the Year and has not let up.
He followed with a second SWC title in 1989, guiding the Hogs to a 19-8 finish.
Since the championships, Cox has produced seven All-America selections, 13 All-SEC selections and seven SWC champions, two ITA national champions, two ITA No. 1-ranked singles players and one ITA No. 1-ranked doubles team.
Only the second coach in school history with 100 wins, Cox has coached six All-Americans in Mike Brown, Tim Crichton, Euan McGuinn, Tom Hamilton, Marcus Hilpert and Oskar Johansson. Under Cox's guidance, Johansson has become most recent Arkansas player to capture a national title and earn a No. 1 ranking. He won the ITA National Clay Court Championship in October 2000 and was the top-ranked player in the nation for more than two months during the spring of 2001. Cox also guided Tim Crichton and Tom Hamilton to the National Clay Court Doubles title and automatic berth in the NCAA championships in 1996. In 1997, the same duo reached the finals of the National Clay Courts Championship again. In 1996, they earned the nation's top doubles ranking for most of the season and became the first Razorback pair to secure the top spot since Peter Doohan and Pat Serret won the NCAA doubles championship in 1982. For their efforts, Crichton and Hamilton earned both All-America and All-SEC honors in 1997 and 1998. With these two national titles, Cox has become one of the few tennis coaches to capture more than one national title.
The success of the Razorback tennis program should come as no surprise to followers of Cox's coaching career. The 46-year-old has notched a career-record of 306-192 in 18 years on the courts, making him number 21 on the all time wins list for active coaches. He owns a career winning percentage of .614.
Cox began his collegiate career at Tyler Junior College in Tyler, Texas, earning All-America honors in doubles for legendary junior college coach Fred Kniffen. While Cox was a regular in the singles lineup, he and Apache partner Ray Anders reached the finals of the National Junior College doubles championships in 1976, earning All-America honors. Cox transferred to Arkansas after his sophomore season, and as a player for the Razorbacks in 1977 and 1978, he was a part of squads that produced a 48-10 record under head coach Tom Pucci.
After earning a business administration degree in the spring of 1978, the Palestine, Texas, native spent a year as the head pro at Willow Brook Country Club in Tyler. Cox then left Tyler to travel the ATP tennis circuit, playing in Europe. Cox also earned a No. 6 ranking in 1979 among Texas men and has more than 70 tournament victories to his credit. The high point of Cox's on-court career came when he competed in the 1980 U.S. Open mixed doubles qualifying tournament. After playing, Cox accepted a position at the Kansas City Country Club in Mission Hills, Kan., teaching from 1980 to 1984. In 1984, he returned to Texas as the head coach at Tyler Junior College. As head coach for both the men and women's squads, Cox posted an impressive 108-25 dual match record. Cox led the Apaches to two NJCAA national championships. The men's team won the NJCAA national championship in 1985 while the women claimed the title in 1987. In addition, the women's team collected a pair of national runner-up finishes under Cox.
For his efforts, Cox was named the National Junior College Men's Coach of the Year and the National JC Women's Coach of the Year in 1985 and 1987, respectively. In his tenure, TJC captured six regional titles and produced 31 All-America selections. By leaving TJC and coming to Arkansas, Cox became one of the few coaches to coach at both of his alma maters. Throughout his playing career, Cox received instruction from many of the top tennis instructors in the country. From his start in the game under the tutelage of his father, Dr. Robert Cox Sr., and of high school coach Marley Styner, Cox not only improved his on-court talents, but also gained an intricate knowledge of tennis that aids him in coaching. Cox has a master's degree in business administration from the University of Texas at Tyler. He is married to the former Meredith Rooney of Little Rock. His 20-year-old daughter, Afton, is a junior at the University of Arkansas, and is a member of the Zeta Tau Alpha sorority.
Robert Cox is an integral part of the Anguilla Tennis Academy team.