Anguilla Tennis Academy
Marvin A. Hazell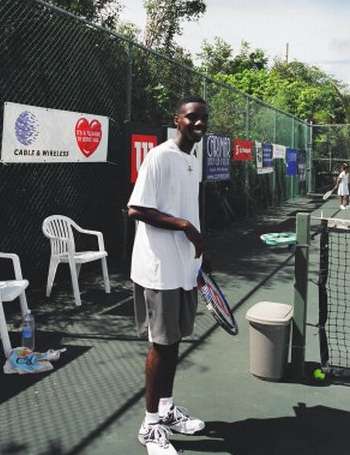 Age: 20
Date of Birth: 10/14/83
Origin: Anguillian
Marvin has possessed a passion for tennis since the age of 8 when he started playing at Cap Juluca. His father's employment afforded him the opportunity to play at the five star tennis facility. People have spoken of his quick progression and how he has simply fallen in love with the game. He has enjoyed it ever since and will continue to work very hard to improve. He is a very nice person to be around and enjoys working with the children. Marvin is also a young Christian man with a strong academic background and comes from a godly household where he learned some key moral values that stick with him to this day.

He enjoys drawing, reading, singing, and watching tennis as well as Japanese animé. Whenever possible he also takes time to do some star gazing and look at sunsets. He said, "I feel it's really relaxing and helps to keep a person calm even when it gets tough. I'm also involved in working with technology and I someday would like to become a network administrator. My favorite tennis player is Andy Roddick because he has such an explosive attitude when on the court and he is overall a cool guy when off the court. My favorite music is anything that's smooth and easy to listen to, like Gospel, classical, and R&B for example. My favorite author is Mary Higgins Clark."

About his experience with the academy he mentioned, "the experiences that have molded me into the model citizen that I am are in part by my role in the Anguilla Tennis Academy. Helping children realize their dreams gives me personal satisfaction."