Anguilla Tennis Academy
Jason Allen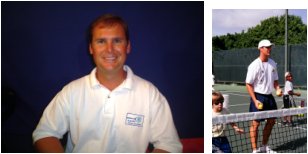 Age: 27
Date of Birth: 7/12/77
Origin: American
Contact Info: 264-476-0697
jallen@caribcable.com

Jason Allen, a USPTR certified tennis professional, is a native of Florida where he grew up playing the world-renowned junior circuit. It was his lifelong dream to be a collegiate athlete, a goal which he accomplished in 1996 when he was offered a scholarship to play at Gardner-Webb University, NC. Jason had an illustrious career at Gardner-Webb where began playing numbers 2 and 3. He ended his career at number one singles and doubles for the Running Bulldogs. Besides posting one of the all time highest winning percentages in the history of the university, he was also named to the South Atlantic Conference All Academic Sports Team his Junior and Senior year.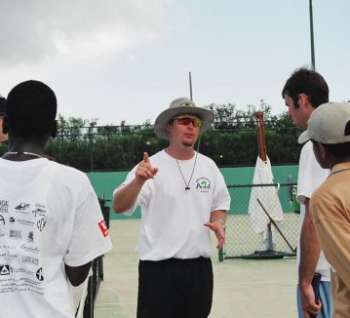 Jason's first coaching job was at the age of 15 as an assistant tennis pro at Magnolia Point Golf and Country Club, Green Cove Springs, Florida. He worked for 8 years under the tutelage of USPTA Professional Jim Huber, an icon in north Florida tennis. Jason was promoted to Head Pro at the age of 17 and took control of the junior program where he coached many young players to obtain state, national, and international rankings. He also coached players who went to college on scholarships as well. In summer of 2000, Jason became the tennis director at Danville Country Club, Danville Kentucky. He worked there for one season before going to graduate school at the University of Kentucky to study Philosophy of Hispanic literature. In 2003 and 2004 he became a tennis coach at Tates Creek High School, Lexington, Kentucky. Among his tennis accomplishments, Jason has also been committed to volunteer work within the tennis industry. From 1996-1999 he was a volunteer coach for the YMCA in Shelby, NC. Moreover, he has been a frequent traveller to Anguilla, BWI to assist in teaching at the Anguilla Tennis Academy, a non profit grassroots tennis program. His efforts in Anguilla have assisted two players in receiving tennis scholarships.
Most recently Jason Allen was appointed the Tennis Director for the Anguilla Tennis Academy as well as Cuisinart Resort and Spa, Anguilla, BWI. Jason commented, "I am proud to be part of Cuisinart Resort and Spa and I look forward to working with the guests, Anguillians, and the children. It is my hope to use the culmination of my experience to provide first rate tennis instruction."