Anguilla Tennis Academy
Iston Benjamin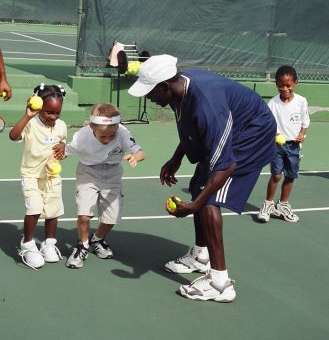 Age: 23
Date of Birth: 3/18/81
Origin: Anguillian
Iston Benjamin is a unique and special addition to the Anguilla Tennis Academy. As a faithful past participant, graduate, and tournament champion, he indeed brings a special mixture of experience to Anguilla's youth. Iston is a graduate of the Albena Lake Hodge Comprehensive School and is planning on studying in the United States with a tennis and track scholarship. His energy and excitement make the children have a more memorable experience and indubitably enjoy tennis even more.

Iston is well known as one of the most decorated and exceptional athletes the island has ever known. He holds many records for running and tennis. Among those is the record for the best five-mile time on the island; a time that nobody can come close to reaching even today.

About his role, he said, "throughout the experienced I have gained, through the years of being a student, and now being a coach, it has not only touched me but it has taught me how to give back to the community. Indeed we are laying the foundation for the next generation of leaders in Anguilla through the sport of tennis."