Anguilla Tennis Academy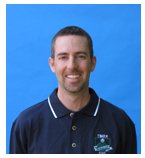 Chris Wade (Head Tennis Pro)
Country: USA
Chris fell in love with tennis at twelve and knew he would make a life out of playing this sport. He started teaching tennis fourteen years ago and came to T Bar M seven years ago. As head tennis pro, he has helped build the club's professional staff from eleven professionals in 1997 to its current twenty-three.
Chris's Achievements:
As a junior player Chris was ranked #1 in Oklahoma boys' 18s and earned a national ranking. Chris attended Baylor University where he earned a four-year letterman status. He received his USPTA, P1, certification after college while teaching tennis for an international tennis management company. During that time he taught in Australia and West Australia State Tennis Academy as well as in the Caribbean on the island of Anguilla. While there, he started the Anguilla Tennis Academy for children in Anguilla. Today ATA has over 300 children involved in the program.
Chris's Teaching Experience/Philosophy:
Chris teaches his students to teach themselves. Eventually they will be on the court alone, so he wants them to be able to analyze their game, as well as their opponents. Chris hopes all of his clients will be able to think through the sport of tennis enough to be able to teach others.

Expertise/Who is the best candidate for lessons with Chris:

Chris expects his clients to be self-motivated. He teaches all levels.

More about Chris Wade:

Chris and his wife, Becky, have a two-year-old daughter and a baby son. He works hard to ensure that all the pros at T Bar M have the skills, techniques, and resources that will help them provide each member a great tennis experience.