Anguilla Tennis Academy Inc.

Success! 1998 Tennis Camp
The Anguilla Tennis Academy began operating a month-long, free tennis clinic in the summer of 1996 with 70 players, then attracted 120 players for Tennis Camp 1997, and Tennis Camp 1998 has been better than ever: 250 children participating, new lighted tennis courts, wonderful donated equipment, volunteer coaches from overseas for a week, exhibition matches and the hotels, and a great deal of email feedback from friends and well-wishers.

Click any picture to enlarge it and find your child!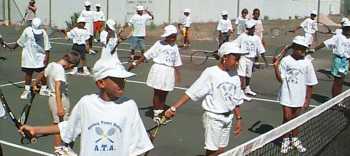 Notice that each child has an "Anguilla Tennis Academy" t-shirt and hat. These were the very generous donation of Abbey Butler, Director of Carson Products.
Click the links below for full details on the summer of 1998.
Lots More Pictures of Tennis Camp 98
News Stories from the Daily Herald
News Stories from the Anguilla Local News
See if you can find someone you know in the pictures below:
Thanks To Everyone From Mitch, Shawn and Damien
See You Next Summer