Anguilla Tennis Camp
Summer 1997

For the second year a summer Tennis Academy was held in Anguilla for four weeks. Eighty children and twenty adults benefited from the coaching which should do a lot to promote tennis in the island. From six years to sixty years, all participants improved their game or started to learn it.
The tennis academy was organized for the second year by Mitchelle Lake who is at Gardner-Webb University in North Carolina. He was assisted by Shawn Romney from the same university and the tournament director was Damien Hughes who is studying at Abraham Baldwin College in Georgia. All three Anguillians are on tennis scholarships and gave up their vacation time to help the children of the island to improve their skills at the game or to start to learn it.
Michelle Lake has plans to reach out to international participants and wants to start an Anguillian national junior tennis team. He is trying to attract international interest in the Anguilla tennis academy and sponsorship from sports companies.
The main sponsor for the two years the academy has been running has been BET (Black Entertainment Television) through the President, Robert Johnson. Local businesses in Anguilla also helped with the sponsorship with more than a dozen companies contributing to the funding of shirts, rackets, balls, nets and prizes.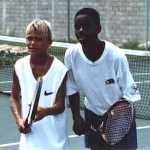 At the end of the four week course there was a knock-out tournament for the junior players. This proved very successful and demonstrated to the visiting sponsors and parents just how much progress had been made. The two finalists were Alexander Wallace and Marvin Hazel with Alexander taking the winning trophy. All participants received certificates of participation. Many are continuing to play with the help of some senior players on the island.
The Government of Anguilla is taking interest especially as the response this year was so good and so many children showed interest and progress. Mitchelle Lake is planning another bigger and better tennis academy next summer with more children taking part. Plans are to have the courts lighted so that play can continue into the evening. He will be seeking sponsorship locally and abroad for the equipment necessary for this important venture of bringing tennis to the children of Anguilla.
Mitch commented, "I am overwhelmed by the many participants in this year's tennis camp. A number of the children in attendance have the potential to be great players. I hope we can work together to maintain the interest in tennis on the island."