Anguilla Tennis Academy Inc.
Summer 2000 Camp

To:   Daily Herald
From: Brenda Carty         
Date: August 5, 2000

Good standard at finals of tennis tournament
ANGUILLA—Samek Connor and Sherma Richardson emerged winners in the Junior Boys and Girls finals of the Tennis Academy tournaments played on Friday evening. Samek beat Alexander Wallace 5-7, 7-6 (7-2), 6-2, to win the Michelle Lake trophy, and Alexander received the Carimar Beach Club trophy.

In the Junior Girls, Sherma Richardson, who was last year's winner, beat Keri Horsford 7-6 (7-2), 6-4. Sherma received the Suzanne Bertmann Trophy and Keri the American Airline/Eagle trophy.

In the Under 12 category, the boys' match was won by Randal Petty, who only started playing tennis this year. He beat Denvil Ruan 6-3,7-5. Shara Proctor is the winner in the under 12 girls, beating Shellisa Williams, 6-3,7-5.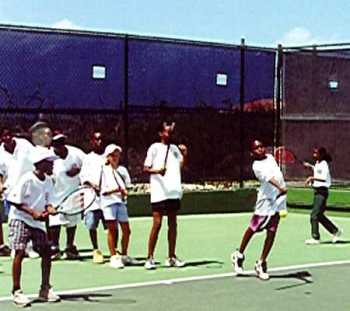 The trophies were presented by Eli Armstrong, Delroy lake, Marlon Lake and Leslie Richardson. Tournament Director Damien Hughes spoke of the high calibre of play in the finals, which he said is indicative of the three weeks of training at the tennis camp. He said he hopes all the players will continue to play and improve their game.
For more about Tennis Camp 2000, Click Here.