Tennis in Anguilla
Many Thanks to Everyone
Who Made the Summer
2000 Camp a Success!
The fifth annual free Anguilla Tennis Summer Camp is now complete and 175 children participated and improved their tennis skills.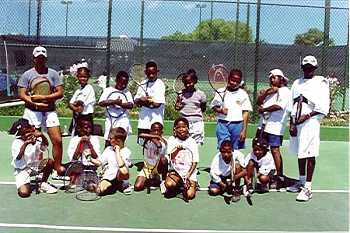 For group pictures of all the children and their coaches: Click Here.
A new member joined the team this year as tennis instructor: Iston Iston is a success story of previous summers and currently works as an assistant tennis pro at Malliouhana Hotel. And under the auspices of the Anguilla Tennis Academy, Iston is offering continued tennis coaching for children - for more information on Iston and this coaching opportunity, Click Here.
The camp was created by young Anguillian students who volunteered their time and energy while home for the summer from attending college in the USA: Mitchelle Lake (bio) who now works for BET in Washington DC, and Damien Hughes (bio) at Morehouse College (www.morehouse.edu) in Atlanta, Georgia.
Tennis Camp 2000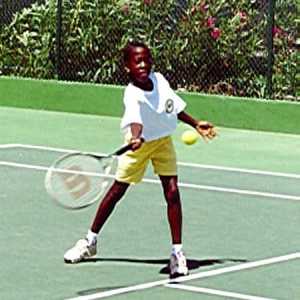 Read all about the preparations for this summer 2000 program in The Daily Herald: Click Here.
And read about the start of Tennis Camp 2000 in The Daily Herald: Click Here.
Last Week of Camp
The last week of the Tennis Camp was an exciting one: several expert tennis coaches were on hand to give lots of extra help and to make the week an interesting one. James Schor of Wilson Caribbean Sales, Maria Lopez from Venezuela, who is ranked No 1 in her country, and two teaching pros from the USA, Leandro Gutierrez, and Oscar Escribano. Also coaching were George Richards from St Maarten and Iston Benjamin, Anguilla's own young coach who won the Tennis Camp trophy for two years and is now a tennis assistant at Malliouhana Hotel.

Johan Kriek, a professional tennis player from Naples Florida, came to Anguilla to assist with the coaching of the children. Read about Johan's visit to Anguilla in The Daily Herald: Click Here.

Johan was ranked in the top twenty from 1980 to 1985, with a career best world ranking of #7 in 1984. He won fifteen singles titles and twelve doubles titles. He won the Australian Open twice and was in the semi final of the US Open in 1980.

Read about the cocktail party reception that the tennis academy put on for Johan, and see the pictures (all the island turned out): Click Here.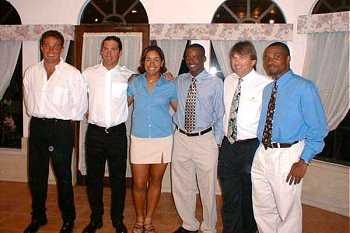 Visiting coaches were hosted by Carimar Beach Club, Frangipani Beach Club and the Malliouhana Hotel. Read more about the last week of tennis camp and see more pictures: Click Here.
Samek Connor and Sherma Richardson emerged winners in the Junior Boys and Girls finals of the Tennis Academy tournaments. In the Under 12 category, the boys' match was won by Randal Petty and Shara Proctor is the winner in the under 12 girls. To read about the summer 2000 tournament, Click Here.
St. Lucia Tournament
The best children from this summer's tennis program will to go to St Lucia for the 17th Annual Coca Cola International Junior Tennis Tournament. The team chosen will be accompanied by Camp Tournament Director, Damien Hughes. To find out who representated Anguilla at this international tournament, and how they did, Click Here.

Click any picture to enlarge it.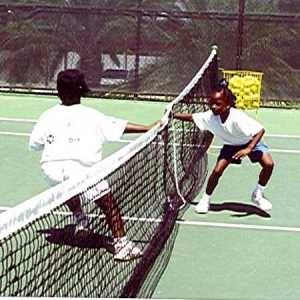 Millenium Dream
The Anguilla Tennis Academy has set as a long-term goal the creation of a professional tennis facility in Anguilla. The Academy would like to build on the momentum that has been created over the last four years, developing a permanent tennis programme in Anguilla and developing tennis tourism. From this base, Anguilla will be able to host regional competitions, create more home-grown tennis pros for the tourism industry, and even someday perhaps host a Seniors Pro tournament in Anguilla.
Thanks To Everyone
Pictures are courtesy Brenda Carty, Bob Green, Roy Rogers, Chris Mason, and Aldo Jackson.