Anguilla Tennis Academy
Bill Riddle
PTR/ USPTA Tennis Professional
Cumberland University: Men's & Women's Head Tennis Coach
Anguilla Tennis Academy: Executive Director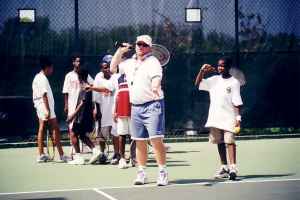 Bill is a native of Mt. Juliet and also serves as the Tennis Director at the Bluegrass Yacht & Country Club. He is in his second year as the Head Coach at Cumberland University and is a Professional Tennis Registry National Tester and Clinician. Bill is a member the REEBOK National Advisory Staff and was the former Head Tennis Coach at Fisk University from 1990-1992.
Bill has worked with and directed a wide variety of local, regional, national and international tennis tournaments and events for such organizations as WORLD TEAMTENNIS, the Virginia Slims Legends, the USPTA and the USTA. Two of the more "high profile" tennis events Bill has helped direct have been the Anguilla Tennis Academy's International Junior Camp and the "Country in the Caribbean" music & tennis festival in the British West Indies.
One of his current projects is serving as the Co-Chairman and Tournament Director for the Music City Tennis Invitational Pro-Am and Team Tournament held annually to benefit the Vanderbilt Children's Hospital Child Development Center in Nashville, Tennessee. To date the MCTI has raised over $1million dollars to benefit the Vanderbilt Children's Hospital CDC. Bill also serves as a Tester and State President for the USPTA and has spoken at numerous tennis industry workshops and conventions throughout the US.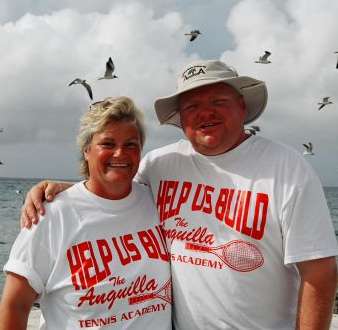 Bill Riddle with Coach B
Bill has been involved with all aspects of the tennis business and spends a great deal of time helping to grow local grassroots tennis. As a player and a teacher Bill has been fortunate to have gained a wide variety of experiences in the tennis industry. Having coached and played throughout the US, the Caribbean, the UK and Europe, Bill has taught and coached tennis to all levels of players and is a member of the HEAD/ PENN racquet advisory staff. He and his wife Stephanie have two children, Blakely (10) and Will (3).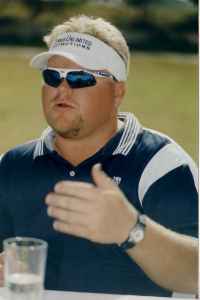 Tennis Highlights:
18th year in the tennis business (coaching, teaching & event/ facility management)

2004 United States Professional Tennis Association Tennessee Pro of the Year

Ranked # 1 in Men's 35 Singles (2004 USTA Tennessee)

2003 USA Team Tennis Tennessee Pro of the Year

2003 PTR Tennessee Private Tennis Facility of the Year winner (BYCC)

2002 Professional Tennis Registry Tennessee Pro of the Year

2001 Professional Tennis Registry National Volunteer of the Year

Serves as the TranSouth Conference and Region XI Tennis Chairman

President of the USPTA Tennessee Chapter