Lights Erected Tennis Courts
The Daily Herald, July 24, 1998
Written by Brenda Carty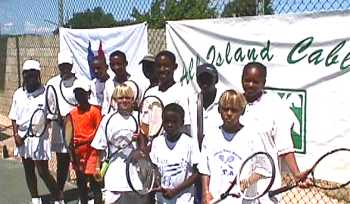 ANGUILLA

Lights were erected at the two tennis courts at Webster Park and at the court at East End this week. The total cost of the purchase and installation of the lights is EC $100,000. The Government of Anguilla and the Social Security Board, together with donations from overseas and local businesses, funded the cost.

Mitchelle Lake, who is organizing the Tennis Academy for the Third Year, was instrumental in raising more than US $10,000 from overseas businesses in the USA. Locally, donations were received from the Government of Anguilla, the Social Security Board, Covecastles, Lake and Kentish, and All-Island Cable Television.

A spokesman for the Anguilla Social Security Board said, "Having built the tennis courts, the Social Security Board is pleased to be further associated with the development of tennis on the island. The Board hopes that many positive results will come from the provision of these facilities."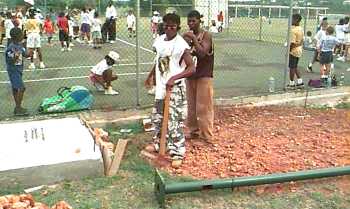 Paul Junger Witt, of Thomas Harris Productions, one of the donors from the USA, told the Daily Herald, "I am delighted with the progress that Mitch Lake and the entire Tennis Academy have made over the last year and I look forward to an even brighter future.
Other donors include Mr. and Mrs. Robert Johnson of Black Entertainment Television, original sponsors of the academy, Abbey Butler, Director of Carson Products, Roy Keith CEO of Carson Products, Ambrose Fleming, Royal Palm St. Maarten, Seymour Schneiderman, Mr. and Mrs. Ephraim Helton, Mr. and Mrs. Sheridan Smith, and Mr. and Mrs. Bob Levine.
Mitch commented, "I am very pleased with the local and international contributors who assisted with the installation of lights at the Webster Park. Their commitment to the Anguilla Tennis Academy is a clear indication that they are concerned about the development of young people on the island."