The Dive Shop - Anguilla
Closed Permanently - 2000
New information on Anguilla diving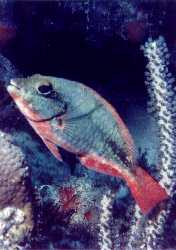 Redband Parrot
Sandy Deep dive spot.

The Dive Shop in Sandy Ground Anguilla closed in 2000 after over 15 years as a top PADI center.

Sandy Deep Beach Store and Charter

Thomas Peabody, formerly co-owner of "The Dive Shop", has opened the new Sandy Deep Beach Store and will soon have a charter boat available too. Visit the new web site: sandydeep.ai

Dive Master Opens New Service.
Douglas Carty (email: dcarty@anguillanet.com), former dive master at the Dive Shop, has started his own business, taking up where the Dive Shop left off:
I have purchased a boat from Neville Connor, which was Shauna Four and am now doing diving and boat trip and charters. The name of my boat is DESHA.

My rates for diving are US$50.00 for a single Tank Dive, US$90.00 for a Double Tank. I also have 6 dives, 8 dives, 10 dives and 12 dive packages.

For charter and trip rates persons can contact me at 264-235-8438 or 264-497-4567/8438 or email me at dcarty@anguillanet.com.

Douglas Carty
Scuba.ai
Spanish Grunt
Taken at Frenchmen's Reef dive spot.
Underwater Tour Around Anguilla
Take an underwater tour via a photo gallery, all shots taken in Anguillian dive spots. Photos are Copyright Hugh Lynch, 1992.

For each photo, the location where it was taken is also given.

Click on any thumbnail photo to see the full size version.

For more information on Anguilla, visit the Anguilla News.

Web site by bobgreen.net