To:   Daily Herald
From: Brenda Carty
Date: August 24, 2000

Computer Club donates fourteen computers to school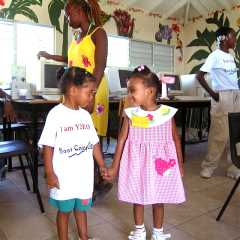 ANGUILLA—The Anguilla Computer Club, which started at the end of 1995 from an idea by Vince Cate, and with founder members Bob Green and Leroy Hill, has decided to end its existence.
"The Computer Club had a mission," said Bob Green, "to jump-start excitement about computers in Anguilla. That mission is now complete and is being carried on by many other organizations on the island." He went on to explain that there are now state of the art computers in the schools, in government, in businesses and in homes and the children of Anguilla do not have any fear of the computer.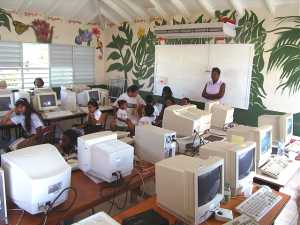 As a result the Club is donating all its equipment, which includes fourteen computers and an air conditioner set up in a lab at the school, to the Albena Lake Hodge Comprehensive School. "We wanted a place where the equipment would be the most fully utilized for education and we have found it," Green noted. "Many thanks to the school for providing a home for this computer lab."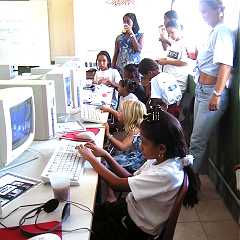 Bob Green, Leroy Hill and Vince Cate have worked over the past five years to keep the Club operating twice a week. At first the Club was set up in the Library and when the numbers were too great they went to the National Trust building. For some years they were in the Arts and Crafts Centre before setting up the lab in the Albena Lake Hodge Comprehensive School earlier this year. More than 500 children have passed through the Club and benefitted from the expertise of the teachers. Over the years several persons from overseas have donated time for various courses. Locally help has been received from Russel Reid, Griffin Webster, Roy Peacock, and Jason Butterworth. Student assistants who came in for praise were Marsha Duncan, Dawnette Bryan and Rochelle Carty.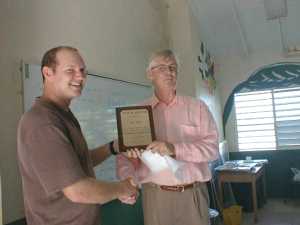 At the end of the Summer Computer Camp, Bob Green officially handed over the computers to the school. He made a presentation to Vince Cate who operates Public Data, an Internet company in Anguilla, and whom he described as the person most responsible for starting the Computer Club. "In recognition of your status as the ultimate founder of the Computer Club, I present you with this plaque. All of us involved in the Club thank you for being the spark plug that made it happen," Green concluded.
Also read about Summer 2000 Bootcamp Graduation: Click Here.